---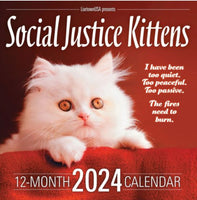 LiarTown USA
2023, staple-bound
SKU: 878223004835
This is a 12" x 12" grid-style wall calendar featuring twelve colorful months of kittens!

Each month features a charming kitten professionally photographed in a heroic pose appropriate to a small cat defiantly speaking out on the hottest social justice issues of the day.
A sassy, uncompromising declaration erases any doubts about each precious cat's passionate convictions, sense of humor, and tough-as-nails attitude! 
Each of these twelve adorable kittens was subject to a week-long, grueling interview process to ensure there was absolutely nothing problematic in its beliefs.