---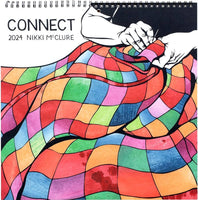 by Nikki McClure
2023, spiral bound
SKU: 878223005528
For twenty-five years, Nikki has created Propaganda for the Real.
And there's a good reason Nikki's calendars have become a staple in kitchens, offices and schools — they're amazing.
Each month is a different image from her original papercuts; cut from a single piece of black paper with an x-acto knife. 
Nikki features strong images of everyday life, each with a powerful verb that inspires action.
Printed in Portland, Oregon by union-labor.
12" x 12"
About the Artist:
Nikki McClure lives in Olympia, Washington under cedar trees along the eastern shore of the Southern Salish Sea. Nikki uses an x-acto knife to cut her designs into paper.