---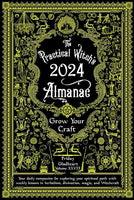 by Friday Gladheart

Microcosm
10/10/2023, paperback
SKU: 9781648411625
A daily companion for exploring your spiritual path with weekly lessons in herbalism, divination, magic, and Witchcraft.
Enrich your spiritual and magical journey with The Practical Witch's Almanac. This almanac provides more than Moon phases, Sabbats, and astronomical and astrological information. Every week you'll explore lessons in herbalism, magic, divination, and more.
This practical guide gives you recipes, DIY projects, tips, and advice to keep you motivated and engaged as you grow your craft. You'll explore tarot cards, runes, tea leaves, and other forms of divination. The herbal studies mentor you through basic teas, tinctures, foods, ointments, incense, and lotions while emphasizing the synergistic union of science and magic. The magic lessons help you hone your spell casting, and the spiritual studies assist you in exploring your beliefs.
Weekly bonus material is available at http://PracticalWitch.com/My2024. The Practical Witch Talk podcast expands on each week's lessons.
About the Author:
Friday Gladheart is the author of The Practical Witch's Almanac, an annual personal planner and guide that has been in publication for over 22 years.  Her articles and DIY projects have appeared in major Pagan, Wiccan, and secular publications. For over 30 years she has worked as a "private pen," creating books and articles for others as a ghostwriter, but has recently come out of the "broom closet" to author her own works.
Friday founded PaganPath.com in 1997, the oldest and most highly respected online academy for Witchcraft, tarot, and herbalism. She spends most of her days teaching, writing, and creating websites while developing a non-profit, organic teaching garden and sanctuary near the oldest National Forest in the southern United States.