---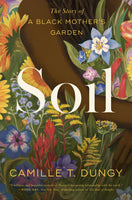 by Camille T. Dungy
Simon and Schuster
5/2/2023, hardcover
SKU: 9781982195304
A seminal work that expands how we talk about the natural world and the environment as National Book Critics Circle Criticism finalist Camille T. Dungy diversifies her garden to reflect her heritage.
In Soil: The Story of a Black Mother' s Garden, poet and scholar Camille T. Dungy recounts the seven-year odyssey to diversify her garden in the predominately white community of Fort Collins, Colorado. When she moved there in 2013, with her husband and daughter, the community held strict restrictions about what residents could and could not plant in their gardens.
In resistance to the homogenous policies that limited the possibility and wonder that grows from the earth, Dungy employs the various plants, herbs, vegetables, and flowers she grows in her garden as metaphor and treatise for how homogeneity threatens the future of our planet, and why cultivating diverse and intersectional language in our national discourse about the environment is the best means of protecting it.
Definitive and singular, Soil functions at the nexus of nature writing, environmental justice, and prose to encourage you to recognize the relationship between the peoples of the African diaspora and the land on which they live, and to understand that wherever soil rests beneath their feet is home.

Reviews:
"A heartfelt and thoroughly enchanting tribute to family and community. Dungy shows us how to tend a garden, and how to tend a full and fragrant life." -- Aimee Nezhukumatathil, NYT Bestselling Author of World of Wonders: In Praise of Fireflies, Whale Sharks, and Other Astonishments
"Gardening, poetry, motherhood, history--dirty and beautiful, difficult and sublime, the agony of failure, the exhalation of a spring bloom... Dungy's poetic ear illuminates her language, whether listing botanical names or reflecting on the tumult of the 2020s. A significant, beautiful, meditative, and wholly down-to-earth memoir with high appeal for book groups and nature lovers." -- Booklist (Starred Review)
"Camille Dungy is one of the greatest American writers, period. And Soil is her finest work yet. In prose that is personal, political, urgent, and honest, Dungy lays bare the perils of homogeneity --in our gardens and in our communities--and offers powerful reminders of why diversity--that watered-down, defanged buzzword--matters. Soil is a delicate and resilient exploration of gardening, motherhood, memory, love, and what it means to thrive as a Black woman tending her garden, her family, and her career in a white supremacist ecosystem." -- Kate Schatz, NYT-Bestselling author of Rad American Women A-Z and Do the Work: An Antiracist Activity Book
About the Author:
Camille T. Dungy is the author of the essay collection Guidebook to Relative Strangers: Journeys into Race, Motherhood, and History, a finalist for the National Book Critics Circle Award. She has edited three anthologies, including Black Nature: Four Centuries of African American Nature Poetry. Her honors include the 2021 Academy of American Poets Fellowship, a Guggenheim Fellowship, an and an American Book Award. She is a University Distinguished Professor at Colorado State University.