---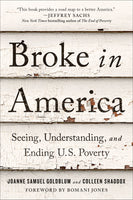 by Joanne Samuel Goldblum and Colleen Shaddox, Foreword by Bomani Jones
BenBella Books, Inc.
2/2/2021
SKU: 9781950665464
Joanne Samuel Goldblum, CEO and founder of the National Diaper Bank Network, and Colleen Shaddox, a journalist and activist, give a book shedding light on the realities faced by those living in poverty across the United States and provide a road map for eradicating poverty via policy change.
Reviews:
"In the richest country in the history of the world, an eye-opening and humanizing testament to the realization that no one should be poor. At a time of crisis when we are re-envisioning and reconstructing our relationship with government and with each other, this is the book we need." -- Mona Hanna-Attisha, author of What the Eyes Don't See and pediatrician in Flint, Michigan
"America is a country of paradox: the world's greatest wealth together with deeply entrenched poverty in its many forms, including homelessness, hunger, unsafe water, under-provisioned schools, and unaffordable energy, transport, health, and other basic needs. The authors open our eyes to these grim realities and how they can be overcome." -- Jeffrey D. Sachs, professor at Columbia University
"Clear, concise, and packed with facts, figures, and suggestions for action, Broke in America shows that poverty is not the result of individual laziness or 'bad choices' but of economic and social policies that produce inequality by design." -- Katha Pollitt, columnist for The Nation
About the Author:

Joanne Samuel Goldblum is CEO and founder of the National Diaper Bank Network, encompassing more than 200 member organizations that provide diapers and other basic needs to families across America. In 2018, she founded the Alliance for Period Supplies, which provides free hygiene products to the one in four people for whom menstruation means difficulty attending school and work. Joanne has spent her career working with and advocating for families in poverty. She has written op-eds for Washington Post, US News & World Report, and HuffPost. She has been an ABC Person of the Week and the subject of profiles by CNN, People, and many other outlets. Joanne is an inspiring and in-demand speaker. In 2007, she was chosen as one of 10 Robert Wood Johnson Community Health Leaders on the basis of her work to found the New Haven Diaper Bank.
Colleen Shaddox is a print and radio journalist and activist. Her publication credits include New York Times, Washington Post, National Public Radio, America, and many more. She left daily newspapers when an editor reprimanded her for writing too many stories about poor people and went to work in a soup kitchen. She has had one foot in journalism and one in non-profits ever since. In states throughout the country, Colleen has worked on winning campaigns to get kids out of adult prisons, to end juvenile life without parole, and to limit shackling in juvenile courts. She is a frequently anthologized fiction writer. Her award-winning play, The Shakespeares, and other dramatic works have been performed around the country.