---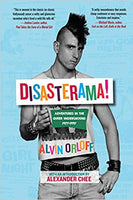 by Alvin Orloff, introduction by Alexander Chee
Three Rooms Press
10/8/2019, paperback
SKU: 9781941110829
***2020 LAMBDA LITERARY AWARD FINALIST***
DISASTERAMA: Adventures in the Queer Underground 1977 to 1997, is the true story of Alvin Orloff who, as a shy kid from the suburbs of San Francisco, stumbled into the wild, eclectic crowd of Crazy Club Kids, Punk Rock Nutters, Goofy Goofballs, Fashion Victims, Disco Dollies, Happy Hustlers, and Dizzy Twinks of post-Stonewall American queer culture of the late 1970s, only to see the "subterranean lavender twilit shadow world of the gay ghetto" ravished by AIDS in the 1980s. Includes an introduction by Alexander Chee (How to Write an Autobiographical Novel (2018, HMH Books).
In Disasterama, Orloff recalls the delirious adventures of his youth--from San Francisco to Los Angeles to New York--where insane nights, deep friendships with the creatives of the underground, and thrilling bi-coastal living led to a free-spirited life of art, manic performance, high camp antics, and exotic sexual encounters, until AIDS threatened to destroy everything he lived for.
In his introduction, award-winning essayist and novelist Alexander Chee notes, "There's a strange love I have for these times that can be hard to explain. How can I love what I lived through from a time that was as 'bad' as that? But as I read this, and those days came into view again, what I think of that love now is that there was a beauty to the beauty you found then that was made the more fierce by the horror of what was happening. If you could still find the worth of your life, still find sex, love, friendship, your own self-worth amid these attempts by the state at erasure and the ravages of the AIDS epidemic, then it had the strength of something forged in fire."
Orloff looks past the politics of AIDS to the people on the ground, friends of his who did not survive AIDS' wrath--the boys in black leather jackets and cackling queens in tacky frocks--remembering them not as victims, but as people who loved life, loved fun, and who were a part of the insane jigsaw of Orloff's friends. Disasterama showcases Orloff's wit and poignancy as he relays the true tale of how a bunch of pathologically flippant kids floundered through a deadly disaster, and, struggled to keep the spirit of camp and radicalism alive, even as their friends lost their lives to the plague.

Reviews:
"Orloff's memoir constitutes a valuable work of cultural history, as well as a heartrending portrayal of his own lost friends." --Lambda Literary
"Alvin Orloff's Disasterama! is a darkly funny memoir depicting SF's Queer Underground during the height of the AIDS Crisis when we were young, angry and horny as hell! This is a remarkable evocation of a heroic time. Long live the queens!!!" --Justin Vivian Bond, author, Tango: My Childhood, Backwards and in High Heels
"Disasterama takes us deep into the 80s and the daily creative resistance that saved the culture's soul during the plague years. With wit and flair Alvin Orloff gives us a guided tour of the era's vibrant subcultures; glittering, pointed reactions to a cold-hearted status quo. Heartbreaking and hilarious, sexed-up and political, Disasterama is a deeply personal coming-of-age story. --Michelle Tea, author Against Memoir and Black Wave

About the Author:
Alvin Orloff began writing in 1977, while still a teenager, by penning lyrics for The Blowdryers, an early San Francisco punk band. He spent the 1980s working as a telemarketer and exotic dancer while concurrently attending U.C. Berkeley and performing with The Popstitutes, a somewhat absurd performance art/homocore band. In 1990 he and his bandmates founded Klubstitute, a floating queer cabaret devoted to the ideal of cultural democracy that featured spoken word, theater, drag, and musical acts. In 1995 the club, whose staff and patrons had been ravaged by AIDS epidemic, closed its doors and Orloff suddenly remembered that all he'd ever wanted to be was a writer. He subsequently published three rather whimsical novels, I Married an Earthling, Gutter Boys, and Why Aren't You Smiling? before producing his memoir of life amongst San Francisco's queer underground during the height of the AIDS crisis, Disasterama! Orloff currently works as the manager of Dog Eared Books, a literary hot-spot in the heart of San Francisco's Castro District. He lives in San Francisco.
Alexander Chee is the author of the novels Edinburgh and The Queen of the Night, and the essay collection How To Write An Autobiographical Novel, all from Houghton Mifflin Harcourt. He is a contributing editor at The New Republic, and an editor at large at VQR. His essays and stories have appeared in The New York Times Book Review, T Magazine, Tin House, Slate, and Guernica, among others. He is winner of a 2003 Whiting Award, a 2004 NEA Fellowship in prose and a 2010 MCCA Fellowship, and residency fellowships from the MacDowell Colony, the VCCA, Civitella Ranieri and Amtrak. He is an associate professor of English and Creative Writing at Dartmouth College.