---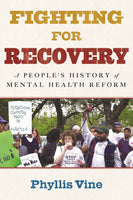 by Phyllis Vine
Beacon Press
09/27/2022, hardcover
SKU: 9780807079614
An essential history of the recovery movement for people with mental illness, and an inspiring account of how former patients and advocates challenged a flawed system and encouraged mental health activism.
This definitive people's history of the recovery movement spans the 1970s to the present day and proves to readers just how essential mental health activism is to every person in this country, whether you have a current psychiatric diagnosis or not.
In Fighting for Recovery, professor and mental health advocate Phyllis Vine tells the history of the former psychiatric patients, families, and courageous activists who formed a patients' liberation movement that challenged medical authority and proved to the world that recovery from mental illness is possible.
Mental health discussions have become more common in everyday life, but there are still enormous numbers of people with psychiatric illness in jails and prisons or who are experiencing homelessness - proving there is still progress to be made.
This is a book for you -

A friend or family member of someone with serious psychiatric diagnoses, to understand the history of mental health reform
A person struggling with their own diagnoses, to learn how other patients have advocated for themselves
An activist in the peer-services network: social workers, psychologists, and peer counselors, to advocate for change in the treatment of psychiatric patients at the institutional and individual levels
A policy maker, clinical psychologist, psychiatric resident, or scholar who wants to become familiar with the social histories of mental illness
Reviews:
"In this essential history, Phyllis Vine recounts the long movement for liberation and recovery of people with mental illness and those who've led this imperative and incredible work." -- Karla J. Strand, Ms.
"As I spoke with historian and journalist Phyllis Vine, I kept thinking of Howard Zinn... In true Zinn-ian fashion, Vine's book doesn't hesitate to rip a beloved American leader down from a pedestal in order to relay the facts." -- Matthew Rozsa, Salon
"[A] must-read... for anyone who wants to understand how the mental health field has developed and where it must go in the future." -- Ron Manderscheid, National Association of County Behavioral Health and Developmental Disability Directors
"Phyllis Vine maintains that crisis, whether real or concocted, tends to drive policy in terms of the interface of the mental health and criminal justice systems. She takes us behind the scenes to explore the possibility of recovery for people with mental illness in our society from the 1960s to the present day, identifying key court cases, policy makers, and activists, and illuminating, with compelling examples, the impact that former consumers of mental health services have had and continue to have on destigmatizing mental illness. The current mental health system in America is in shambles. Now, Vine concludes, is the time to act." -- Risdon N. Slate, author of The Criminalization of Mental Illness
"Fighting for Recovery is a groundbreaking history of the mental health recovery movement in America. It covers both the family advocacy movement and, more importantly, the consumer/ex-patient/survivor movement, from its beginnings with the Mental Patients Liberation advocacy work of the early 1970s through today's peer-support and advocacy organizations, which now provide services in most of the country. I highly recommended it to anyone interested in the mental health recovery movement in America." -- Mike Finkle, founder and former executive director, On Our Own of Maryland
"The subtitle condenses the promise of this book: a bracing account by both committed activist and seasoned social historian, Fighting for Recovery is a textual double for the story it tells. Underscore struggle messy, divisive, unresolved, leaving wreckage in its wake. The roster includes players of various stripes (clinicians, families, bureaucrats, service users/refusers, researchers, even venture capitalists), pitting power politics against street theatre, professional defensiveness against first-person testimony, and even (on rare occasion) discussing relevant research. You may have wondered why 'psychiatry has been slow to adopt recovery programs.' That verdict (coming after more than three hundred pages of painstakingly documented history) will be less mysterious -- but not one iota less sad -- to any reader of what came before it. The epilogue, a brave coda in its own right, brings the story up to date with shout-outs to promising changes in policing and prisons... and a weary, final call for action." -- Kim J. Hopper, author of Reckoning with Homelessness
About the Author:
Phyllis Vine's book Families in Pain was the first to discuss family relationships of people with mental illness. As a tenured professor of American history at Sarah Lawrence College, she taught courses on the history of healthcare. Vine was a founding member of NAMI-New York State. Presently she is the president of the board of directors of Gould Farm, the oldest farm-based residential treatment program for people with mental illness in the US.