---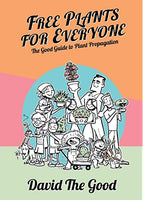 by David the Good
Castalia House
5/29/2019, hardcover
SKU: 9789527065570
Do you want to grow apples from seed? Or learn to graft? Or germinate seeds from that awesome old honey locust tree in your Grandpa's backyard?

In Free Plants for Everyone, you will learn tried and true methods of plant propagation that will allow you to grow pretty much anything you like without giving your hard-earned money to plant nurseries. Gardening expert David The Good takes the mystery out of plant propagation and shares propagation secrets from the nursery business as well from his many years of experience.

Whether you're interested in starting a plant nursery, saving money on gardening, saving old fruit tree varieties or simply want lots of plants to give away, this book is for you. Start plants from cuttings, seeds, division and more. Includes information on propagating and saving seeds from 101 different species, as well as pen and ink illustrations by the author.