---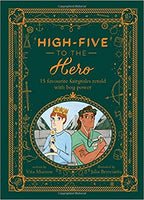 by Vita Murrow and Julia Bereciartu (illustrator)

Frances Lincoln Ltd.
10/1/2019, hardcover
SKU: 9781786037824
What if heroes were celebrated for the power of their hearts instead of their swords? In this stunning anthology--elegantly presented in a green, clothbound hard cover with gold-toned metallic debossing--15 favorite fairytales have been retold for a new generation.
Meet King Arthur, who rules by listening to others, and Prince Charming, who really wishes people wouldn't typecast him, in this stereotype-busting follow-up to Power to the Princess. Focused on issues including self-image, confidence, LGBTQ, friendship, advocacy, and disability, these stories are perfect for sharing between parents and children, or for older heroes and heroines to read by themselves.
Get reacquainted with these caring, considerate, and responsible heroes:
King Arthur
Tom Thumb
Sinbad
The Emperor's New Clothes
Jack and the Beanstalk
Rumpelstiltskin
Pinocchio
Hercules
Prince Charming
King Midas
The Pied Piper
Quasimodo
The Snow Man
The Elves and the Shoemaker
Anansi
Reviews:
" An inclusive compilation permeated with strong values." -Kirkus Reviews
Authors:
Vita Murrow is an educator, an artist, a writer, and a mom. Vita has a quirky sense of humor and an eye for the weird. When she was in 8th grade, she was rejected from a special writers' retreat for kids. But that didn't stop her from pursuing her passion. Since then, Vita has been a teacher, a producer, a film maker, a program director, and even a puppeteer. She's also had jobs in an office which were pretty fun. She currently works as a children's author reinventing old stories for a new generation and crafting wordless pictures books together with her husband Ethan Murrow. Their recent book "The Whale" was nominated for a CILIP Carnegie and Kate Greenaway Medal. Vita loves working with other artists and writers and is always looking to share a chocolate chip cookie with someone.
Julia Bereciartu (a.k.a. Juliabe) is a Spanish illustrator, born in 1980 in the northern city of San Sebastian. From an early age, she spent most of her time drawing, even if that meant using markers on her parents' new couch. She also loved reading books and dreamed of painting the illustrations that accompanied them when she grew up. She now lives in Madrid with her partner and their ginger cat, and has fulfilled her childhood dream of becoming an illustrator. Julia works for clients such as American Girl, Google, Cartoon Network, and Simon & Schuster, and loves giving life to quirky, sassy characters and the occasional fluffy pet.