---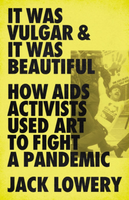 by Jack Lowry
Bold Type Books
04/05/2022, hardcover
SKU: 9781645036586
The story of art collective Gran Fury -- which fought back during the AIDS crisis through direct action and community-made propaganda -- offers lessons in love and grief.
In the late 1980s, the AIDS pandemic was annihilating queer people, intravenous drug users, and communities of color in America, and disinformation about the disease ran rampant. Out of the activist group ACT UP (AIDS Coalition to Unleash Power), an art collective that called itself Gran Fury formed to campaign against corporate greed, government inaction, stigma, and public indifference to the epidemic.
Writer Jack Lowery examines Gran Fury's art and activism from iconic images like the "Kissing Doesn't Kill" poster to the act of dropping piles of fake bills onto the trading floor of the New York Stock Exchange. Lowery offers a complex, moving portrait of a collective and its members, who built essential solidarities with each other and whose lives evidenced the profound trauma of enduring the AIDS crisis.
Gran Fury and ACT UP's strategies are still used frequently by the activists leading contemporary movements. In an era when structural violence and the devastation of COVID-19 continue to target the most vulnerable, this belief in the power of public art and action persists.
Reviews:
"I picked up Jack Lowery's It Was Vulgar and It Was Beautiful and didn't stop reading it for the next three days. Lowery's plainspoken, patient, and probing approach to his dramatic subject matter is totally compelling, and his focus on Gran Fury fills in a critical piece of aesthetic and political history. Anyone and everyone interested in still-urgent questions about the relations between art, activism, living, and dying should immediately read this book." -- Maggie Nelson, author of The Argonauts and On Freedom
About the Author:
Jack Lowery is a writer whose work has appeared in the Atlantic, the Times Literary Supplement, and on The Awl. He has taught in the Undergraduate Writing Program at Columbia University, where he also completed his MFA in nonfiction writing. He lives in Brooklyn.