---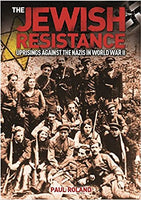 by Paul Roland
Sirius Entertainment
3/1/2018, paperback
SKU: 9781788285308
A vast number of Jewish people refused to go passively to their deaths at the hands of the Nazis in World War II. In fact they put up heroic resistance. Prisoners at Sobibor and Treblinka in Poland organized successful revolts, while at Auschwitz prisoners sacrificed their lives to dynamite the crematorium.
Beyond the barbed wire, hundreds of Jews were active in the French underground and thousands fought with the partisans in other occupied countries as well as forming their own guerrilla groups. One and a half million more served in the Allied armed forces.
In the Warsaw ghetto before the uprising, Jewish tailors sabotaged a consignment of German military uniforms by sewing the trouser legs together and stitching the buttons on backwards, despite knowing that the repercussions would be terrible. Futile acts like this were preferable to doing nothing. If they were to die, they would die with dignity as human beings and not as sub-humans as their would-be Aryan masters wished to classify them.
A fascinating but little known chapter of history. Stories of amazing courage in the face of incredible odds.
About the Author:
Paul Roland is the author of more than twenty books including recently Investigating the Unexplained, Crime Scenes, In the Minds of Murderers, The Complete Book of Ghosts, The Crimes of Jack the Ripper, The Nazis and the Occult, and Hauntings. He is currently researching a history of the Third Reich. Paul is a regular contributor to The Mail on Sunday, Kerrang and Total Film.