---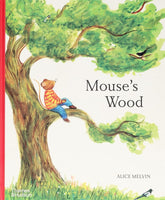 by Alice Melvin
Thames & Hudson
06/07/2022, hardcover
SKU: 9780500652701
Written with a gentle rhyme that reflects the slow pace of Mouse's rambling journey, and illustrated in Alice Melvin's inimitable style, Mouse's Wood is a heartwarming celebration of slow living in nature. This beautifully designed book also features special die-cut flaps and includes a spread featuring a nature calendar of plants, birds, and animals for children to search for in the wild.
Mouse first ventures out in wintry January to visit his friend Squirrel. Mouse moves on to wake up Hedgehog for the arrival of spring, and as he continues along the path in the wood, Mouse's journey from friend to friend maps out the changes in seasons from January through to December.
Target age: 3 to 5
Reviews:
"Wondrous, captivating and magical... one of our favourite books this year!" -- Inclusive Children's Books
"This has gone straight to the top of my favourites pile. It's absolutely beautiful and we will treasure it forever" - @littlebugtogs
About the Author:
Alice Melvin is an award-winning illustrator and product designer based in Edinburgh, Scotland. She is the author of four best-selling picture books for children, which have been translated into over ten different languages: Grandma's House, The High Street, Counting Birds, and An A to Z Treasure Hunt.