---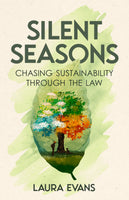 by Laura Evans
New Degree Press
09/22/2022, paperback
SKU: 9798885045711 
Do you care about what happens to life on Earth? Are you concerned that what we are doing is unsustainable? Do you want to practice sustainability, but aren't clear how?
In Silent Seasons, author Laura Evans demystifies how current sustainability approaches are not working through the lessons she learned as an environmental law firm lawyer, government agency lawyer, consultant, nonprofit staffer, and human surviving a global pandemic.
This book combines thought leadership, personal stories, and legal information to teach you:
Summaries of specific environmental laws like the Endangered Species Act, National Environmental Policy Act, and New York's Climate Leadership and Community Protection Act.
How the current U.S. environmental law system is organized and failing us all.
How you can benefit from personal sustainability lessons Laura learned along the way.
How to create a broader framework for addressing current problems like climate change, water pollution, air pollution, species extinction, and more.
How to make chicken noodle soup.
The stories and lessons in this book will give you broader perspectives and new ways of thinking about sustainability, which will empower us all to move toward a more healthy and sustainable future together.