---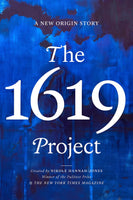 Created by Nikole Hannah-Jones and The New York Times Magazine

One World
11/16/2021, hardcover
SKU: 9780593230572
A dramatic expansion of a groundbreaking work of journalism, The 1619 Project: A New Origin Story offers a profoundly revealing vision of the American past and present.

In late August 1619, a ship arrived in the British colony of Virginia bearing a cargo of twenty to thirty enslaved people from Africa. Their arrival led to the barbaric and unprecedented system of American chattel slavery that would last for the next 250 years. This is sometimes referred to as the country's original sin, but it is more than that: It is the source of so much that still defines the United States. 
The New York Times Magazine's award-winning "1619 Project" issue reframed our understanding of American history by placing slavery and its continuing legacy at the center of our national narrative. This new book substantially expands on that work, weaving together eighteen essays that explore the legacy of slavery in present-day America with thirty-six poems and works of fiction that illuminate key moments of oppression, struggle, and resistance. The essays show how the inheritance of 1619 reaches into every part of contemporary American society, from politics, music, diet, traffic, and citizenship to capitalism, religion, and our democracy itself. 
This is a book that speaks directly to our current moment, contextualizing the systems of race and caste within which we operate today. It reveals long-glossed-over truths around our nation's founding and construction--and the way that the legacy of slavery did not end with emancipation, but continues to shape contemporary American life. 
Featuring contributions from: Leslie Alexander - Michelle Alexander - Carol Anderson - Joshua Bennett - Reginald Dwayne Betts - Jamelle Bouie - Anthea Butler - Matthew Desmond - Rita Dove - Camille T. Dungy - Cornelius Eady - Eve L. Ewing - Nikky Finney - Vievee Francis - Yaa Gyasi - Forrest Hamer - Terrance Hayes - Kimberly Annece Henderson - Jeneen Interlandi - Honorée Fanonne Jeffers - Barry Jenkins - Tyehimba Jess - Martha S. Jones - Robert Jones, Jr. - A. Van Jordan - Ibram X. Kendi - Eddie Kendricks - Yusef Komunyakaa - Kevin M. Kruse - Kiese Laymon - Trymaine Lee - Jasmine Mans - Terry McMillan - Tiya Miles - Wesley Morris - Khalil Gibran Muhammad - Lynn Nottage - ZZ Packer - Gregory Pardlo - Darryl Pinckney - Claudia Rankine - Jason Reynolds - Dorothy Roberts - Sonia Sanchez - Tim Seibles - Evie Shockley - Clint Smith - Danez Smith - Patricia Smith - Tracy K. Smith - Bryan Stevenson - Nafissa Thompson-Spires - Natasha Trethewey - Linda Villarosa - Jesmyn Ward
Reviews:
"Hannah-Jones and colleagues consider a nation still wrestling with the outcomes of slavery, an incomplete Reconstruction, and a subsequent history of Jim Crow laws and current legal efforts to disenfranchise Black voters . . . Those readers open to fresh and startling interpretations of history will find this book a comprehensive education. A much-needed book that stakes a solid place in a battlefield of ideas over America's past and present." --Kirkus Reviews (starred review)
"Readers will discover something new and redefining on every page as long-concealed incidents and individuals, causes and effects are brought to light by Hannah-Jones and seventeen other vital thinkers and clarion writers . . . each of whom sharpens our understanding of the dire influence of anti-Black racism on everything . . . and how Black Americans fighting for equality decade after decade have preserved our democracy. The revelations are horrific and empowering. . . . This visionary, meticulously produced, profound, and bedrock-shifting testament belongs in every library and on every reading list. . . . [An] invaluable and galvanizing history . . . revelatory." --Booklist (starred review)
About the Contributors:
Nikole Hannah-Jones is a Pulitzer Prize-winning reporter covering racial injustice for The New York Times Magazine, and creator of the landmark 1619 Project. In 2017, she received a MacArthur Foundation Fellowship, known as the Genius Grant, for her work on educational inequality. She has also won a Peabody Award, two George Polk Awards, three National Magazine Awards, and the 2018 John Chancellor Award for Excellence in Journalism from Columbia University. In 2016, Hannah-Jones co-founded the Ida B. Wells Society for Investigative Reporting, a training and mentorship organization geared toward increasing the number of investigative reporters of color. Hannah-Jones is the Knight Chair in Race and Journalism at Howard University, where she has founded the Center for Journalism and Democracy. In 2021, she was named one of Time's 100 most influential people in the world.
The 1619 Project is an ongoing initiative from The New York Times Magazine that began in August 2019, the four hundredth anniversary of the beginning of American slavery. It is led by Pulitzer Prize-winning journalist Nikole Hannah-Jones, along with New York Times Magazine editor-in-chief Jake Silverstein and editors Ilena Silverman and Caitlin Roper.