---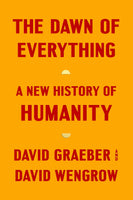 by David Graeber and David Wengrow
Farrar, Straus and Giroux
11/9/2021, hardcover
SKU: 9780374157357
A dramatically new understanding of human history, challenging our most fundamental assumptions about social evolution--from the development of agriculture and cities to the origins of the state, democracy, and inequality--and revealing new possibilities for human emancipation.
For generations, our remote ancestors have been cast as primitive and childlike--either free and equal innocents, or thuggish and warlike. Civilization, we are told, could be achieved only by sacrificing those original freedoms or, alternatively, by taming our baser instincts. David Graeber and David Wengrow show how such theories first emerged in the eighteenth century as a conservative reaction to powerful critiques of European society posed by Indigenous observers and intellectuals. Revisiting this encounter has startling implications for how we make sense of human history today, including the origins of farming, property, cities, democracy, slavery, and civilization itself.
Drawing on pathbreaking research in archaeology and anthropology, the authors show how history becomes a far more interesting place once we learn to throw off our conceptual shackles and perceive what's really there. If humans did not spend 95 percent of their evolutionary past in tiny bands of hunter-gatherers, what were they doing all that time? If agriculture, and cities, did not mean a plunge into hierarchy and domination, then what kinds of social and economic organization did they lead to? The answers are often unexpected, and suggest that the course of human history may be less set in stone, and more full of playful, hopeful possibilities, than we tend to assume.
The Dawn of Everything fundamentally transforms our understanding of the human past and offers a path toward imagining new forms of freedom, new ways of organizing society. This is a monumental book of formidable intellectual range, animated by curiosity, moral vision, and a faith in the power of direct action.
Reviews:
"An instant classic... Fatalistic sentiments about human nature melt away upon turning the pages... [ The Dawn of Everything] sits in a different class to all the other volumes on world history we are accustomed to reading... If comparisons must be made, they should be made with works of similar caliber in other fields, most credibly, I venture, with the works of Galileo or Darwin. Graeber and Wengrow do to human history what the first two did to astronomy and biology respectively." -- Giulio Ongaro, Jacobin
"The Dawn of Everything is also the radical revision of everything, liberating us from the familiar stories about humanity's past that are too often deployed to impose limitations on how we imagine humanity's future. Instead they tell us that what human beings are most of all is creative, from the beginning, so that there is no one way we were or should or could be. Another of the powerful currents running through this book is a reclaiming of Indigenous perspectives as a colossal influence on European thought, a valuable contribution to decolonizing global histories." -- Rebecca Solnit, author of Hope in the Dark and Orwell's Roses
About the Authors:
David Graeber was a professor of anthropology at the London School of Economics. He is the author of Debt: The First 5,000 Years and Bullshit Jobs: A Theory, and was a contributor to Harper's Magazine, The Guardian, and The Baffler. An iconic thinker and renowned activist, his early efforts in Zuccotti Park made Occupy Wall Street an era-defining movement. He died on September 2, 2020.
David Wengrow is a professor of comparative archaeology at the Institute of Archaeology, University College London, and has been a visiting professor at New York University. He is the author of several books, including What Makes Civilization?. Wengrow conducts archaeological fieldwork in various parts of Africa and the Middle East.