---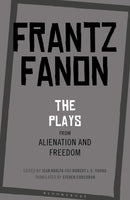 by Frantz Fanon, Edited by Jean Khalfa and Robert J. C. Young, Translated by Steven Corcoran
Bloomsbury Academic
10/29/2020, paperback
SKU:  9781350126572
Prior to becoming a psychiatrist, Frantz Fanon wanted to be a playwright and his interest in dialogue, dramatisation and metaphor continued throughout his writing and career. His passion for theatre developed during the years that he was studying medicine, and in 1949 he wrote the plays The Drowning Eye ( L'OEil se noie), and Parallel Hands ( Les Mains parallèles). This first English translation of the works gives us a Fanon at his most lyrical, experimental and provocative.
About the Contributors:
Frantz Fanon (1925-1961) was a Martinique-born psychiatrist, philosopher, revolutionary, and writer. He was the author of classic works such as Black Skin, White Masks (1952) and The Wretched of the Earth (1961). He was one of the most significant anti-colonialist, anti-imperialist and anti-racist thinkers of the 20th Century.
Jean Khalfa is a Senior Lecturer in French Studies at Trinity College Cambridge, UK. He is the editor of the first complete edition of Michel Foucault's History of Madness (2006) and author of Poetics of the Antilles (2016) and an upcoming work on Frantz Fanon's The Wretched of the Earth.
Robert J. C. Young, FBA, is Julius Silver Professor of English and Comparative Literature at New York University, USA. He is the author of White Mythologies (1990), Colonial Desire (1995), Postcolonialism: An Historical Introduction (2001), The Idea of English Ethnicity (2008), Empire, Colony, Postcolony (2015).
Steven Corcoran is a writer and translator living in Berlin. He has edited and/or translated several works by Jacques Rancière, including Dissensus (Continuum, 2010), two works by Alain Badiou, Polemics and Conditions, and Alienation and Freedom (Bloomsbury 2017) by Frantz Fanon.