---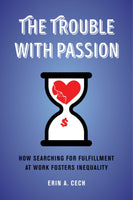 by Erin A. Cech
University of California Press
11/9/2021, paperback
SKU: 9780520303232
Probing the ominous side of career advice to "follow your passion," this data-driven study explains how the passion principle fails us and perpetuates inequality by class, gender, and race; and it suggests how we can reconfigure our relationships to paid work.
"Follow your passion" is a popular mantra for career decision-making in the United States. Passion-seeking seems like a promising path for avoiding the potential drudgery of a life of paid work, but this "passion principle"--seductive as it is--does not universally translate. The Trouble with Passion reveals the significant downside of the passion principle: the concept helps culturally legitimize and reproduce an exploited, overworked white-collar labor force and broadly serves to reinforce class, race, and gender segregation and inequality.
Grounding her investigation in the paradoxical tensions between capitalism's demand for ideal workers and our cultural expectations for self-expression, sociologist Erin A. Cech draws on interviews that follow students from college into the workforce, surveys of US workers, and experimental data to explain why the passion principle is such an attractive, if deceptive, career decision-making mantra, particularly for the college educated. Passion-seeking presumes middle-class safety nets and springboards and penalizes first-generation and working-class young adults who seek passion without them. The ripple effects of this mantra undermine the promise of college as a tool for social and economic mobility. The passion principle also feeds into a culture of overwork, encouraging white-collar workers to tolerate precarious employment and gladly sacrifice time, money, and leisure for work they are passionate about. And potential employers covet, but won't compensate, passion among job applicants. This book asks, What does it take to center passion in career decisions? Who gets ahead and who gets left behind by passion-seeking? The Trouble with Passion calls for citizens, educators, college administrators, and industry leaders to reconsider how we think about good jobs and, by extension, good lives.
Reviews:
"Meticulously researched and beautifully written, this work plumbs an important tenet of the American religion of self-discovery. The passion principle makes it easier for us to live with--and even feel good about--enduring inequalities of opportunity. Sociologists of culture and educators of every stripe will read, share, and discuss this book's insights for a long time."--Mitchell L. Stevens, Stanford University
"With rich data and gripping storytelling, this book exposes how an idea we hold so dear--that we should follow our passion--reproduces systems of inequality and might not be worth the sacrifices we make in our time, money, and leisure. A must-read for scholars of inequality, career counselors, and anyone who advises young people."--Shelley J. Correll, Professor of Sociology and (by courtesy) Organizational Behavior, Stanford University
"This is both a work of cultural criticism and a study of social stratification. It is not every day that an author highlights something new, noteworthy, and yet quite general about our culture. Erin Cech makes us question how college students think about their lives and careers, and about the advice they receive from peers and advisers."--Jerry A. Jacobs, Professor of Sociology, University of Pennsylvania
About the Author:
Erin A. Cech is Assistant Professor of Sociology at the University of Michigan. Her research investigates how seemingly benign and taken-for-granted cultural beliefs reproduce workforce inequalities.