---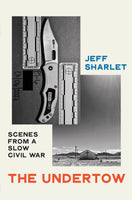 by Jeff Sharlet
W.W. Norton & Company
3/21/2023, hardcover
SKU: 9781324006497
An unmatched guide to the religious dimensions of American politics, Jeff Sharlet journeys into corners of our national psyche where others fear to tread. The Undertow is both inquiry and meditation, an attempt to understand how, over the last decade, reaction has morphed into delusion, social division into distrust, distrust into paranoia, and hatred into fantasies--sometimes realities--of violence.
Across the country, men "of God" glorify materialism, a gluttony of the soul, while citing Scripture and preparing for civil war--a firestorm they long for as an absolution and exaltation. Lies, greed, and glorification of war boom through microphones at hipster megachurches that once upon a time might have preached peace and understanding. Political rallies are as aflame with need and giddy expectation as religious revivals. At a conference for incels, lonely single men come together to rage against women. On the Far Right, everything is heightened--love into adulation, fear into vengeance, anger into white-hot rage. Here, in the undertow, our forty-fifth president, a vessel of conspiratorial fears and fantasies, continues to rise to sainthood, and the insurrectionist Ashli Babbitt, killed on January 6 at the Capitol, is beatified as a martyr of white womanhood.
Framing this dangerous vision, Sharlet remembers and celebrates the courage of those who sing a different song of community, and of an America long dreamt of and yet to be fully born, dedicated to justice and freedom for all.
Exploring a geography of grief and uncertainty in the midst of plague and rising fascism, The Undertow is a necessary reckoning with our precarious present that brings to light a decade of American failures as well as a vision for American possibility.
Reviews:
"That America is deeply divided is undeniable. Yet underneath this polarization lies a rich tapestry of human experience, stories of individuals inspired by myths, driven by fears, and searching for meaning. At once unexpectedly sympathetic and profoundly disquieting, Jeff Sharlet's work shows how the task of binding our nation together is a daunting one, but the fate of American democracy depends on it." -- Kristin Kobes Du Mez, author of Jesus and John Wayne
"Riveting, insightful.... Weaving religion, hate, hope, and fear into stories that catch us unaware, Jeff Sharlet confronts us with the realities of the shifting American psyche--a must-read in order to understand the conflicting voices and tensions in America today." -- Anthea Butler, author of White Evangelical Racism
"Jeff Sharlet's rich narrative prose unpacks a worldview in which US democracy is an existential threat. These essays are an essential read for all Americans." -- Jason Stanley, author of How Fascism Works
About the Author:
Jeff Sharlet is the New York Times best-selling author or editor of eight books, including The Family: The Secret Fundamentalism at the Heart of American Power, adapted into a Netflix documentary series, and This Brilliant Darkness. His reporting on LGBTIQ+ rights around the world has received the National Magazine Award, the Molly Ivins Prize, and Outright International's Outspoken Award. His writing and photography have appeared in many publications, including Vanity Fair, for which he is a contributing editor; the New York Times Magazine; GQ; Esquire; Harper's; and VQR, for which he is an editor at large. He is the Frederick Sessions Beebe '35 Professor in the Art of Writing at Dartmouth College, where he lives in the woods with many animals.