---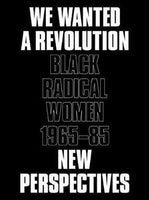 Edited by Catherine Morris and Rujeko Hockley
Duke University Press
03/05/2018, paperback
SKU: 9780872731844
The Brooklyn Museum published two volumes related to its groundbreaking exhibition, We Wanted a Revolution: Black Radical Women, 1965-85, which focused on radical approaches to feminist thinking developed by women artists and activists of color.
The first volume, a Sourcebook, was published in 2017 and focused on representing key voices of the period by gathering a remarkable array of historical documents. Available in 2018, the second volume, New Perspectives, includes original essays and perspectives by Aruna D'Souza, Uri McMillan, Kellie Jones, and Lisa Jones that place the exhibition's works in both historical and contemporary contexts.
This second volume, New Perspectives also includes two new poems by Alice Walker. The book is generously illustrated with major objects from the exhibition, installation views, and other photographs. A checklist of the exhibition as well as an extensive bibliography complete the volume. Together with the Sourcebook, New Perspectives shares this important body of art by women of color, presents their voices, provides important commentary on that time and its unresolved issues, and offers extended documentation of the exhibition.