---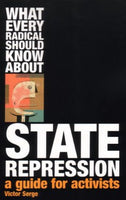 by Victor Serge
Ocean Press
2005
SKU: 9781920888176
"Repression can really only live off fear," writes Russian revolutionary Victor Serge. His exposé of the surveillance methods used by the Czarist police reads like a spy thriller. An irrepressible rebel, Serge wrote this manual for political activists, describing the structures of state repression and how to dodge them. He also explained how such repression is ultimately ineffective.
As civil liberties attorney Dalia Hashad illustrates in her introduction, Serge's broad discussion on political repression and provocation is as relevant today as it was in pre-revolutionary Russia. Today's repressive apparatus—racial profiling, the USA Patriot Act, etc—are symptomatic of totalitarian regimes.
Victor Serge was born to Russian émigré parents in 1890. He wrote numerous novels, poems and political essays and was forced into exile for opposing Stalin's rule.