---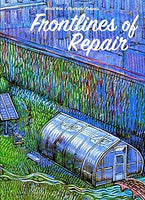 Edited by Seth Tobocman, Jordan Worley, and Paula Hewitt Amram
World War 3 Illustrated
6/7/2022, paperback
SKU: 9781849354745
Political cartoonists and artists address social, political, and environmental damage, charting a path toward healing and repair.
About the Editors:
Seth Tobocman is a comic-book artist whose work has appeared in the New York Times, Village Voice, Heavy Metal, and many other magazines. He is author of The Face of Struggle, You Don't Have to Fuck People Over to Survive, and War in the Neighborhood, among several other books. He resides in New York City.
Jordan Worley is a cartoonist & illustrator who lives in New York. He is a frequent contributing artist and a member of the editorial collective of World War 3 Illustrated. His work has been exhibited at ABC No Rio, The New Museum, and Exit Art. His comic about living in New York post 911 is part of the permanent collection of the Prints and Photographs Division of The Library of Congress.
Paula Hewitt Amram is a painter, cartoonist and green builder who creates work on civil rights, migrations of people, food, animals, and the rights of boys and girls to be out in public.