---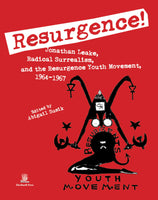 Edited by Abigail Susik
Eberhardt Press
2023, paperback
SKU: 9780977839254


Jonathan Leake was WAY out, even for the farthest-out groups in the sixties, an "extreme phenomenon" of ultra-leftism who holds a legendary status in the memories of those who knew him. In the pages of Leake's fierce anti-racist magazine, Resurgence (twelve issues; printed New York, Chicago, San Francisco; autumn, 1964–March 1967), radical surrealism operated in tandem with the group's fundamental cause of a youth-led rebellion: protection of civil liberties for students and minors; the call for the dismantling of the imperialist Nation State; opposition to military conscription; support of African-American youth defense councils against the white power structure; and coordination of the youth struggle with that of the working class. Leake also put his politics into action, co-founding the New York City-based Resurgence Youth Movement (RYM) in 1964, and organizing with the Industrial Workers of the World Union (IWW).
Resurgence! is the first book devoted to the Resurgence Youth Movement. Printed and published by Eberhardt Press in Portland, Oregon, the book contains full-size reproductions of covers and pages from Resurgence magazine. This volume features selections from all twelve issues of Resurgence, including the recently discovered, extremely rare issue #4, only one copy of which is known to exist. Also included are rare photographs of Leake from the 1960s and beyond, as well as shots of the RYM crew in action. The book features introductory essays by editor Abigail Susik and some of the people who have been close to Leake, such as Chicago surrealist Penelope Rosemont, and Leake's brother, Paul Leake, who was a member of the RYM from an early age.
Reviews:
"Jonathan Leake's contribution to surrealism with the Resurgence Youth Movement cannot be underestimated. He desired to push us and our consciousness to the very edge and over that edge. He was an explorer of the mind who realized that more was possible than was typically offered in daily life -- that though we had plenty of stuff, commodities the like of which the world has never seen -- television, telephones, automobiles, washing machines -- still, real life somehow eluded us and was elsewhere..." – Penelope Rosemont, Chicago surrealist
About the Editor:
Abigail Susik is Associate Professor of Art History at Willamette University and co-editor of Surrealism and Film After 1945.