---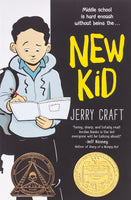 by Jerry Craft
Quill Tree Books
02/19/2019, paperback
SKU: 9780062691194
Winner of the Newbery Medal, Coretta Scott King Author Award, Kirkus Prize for Young Readers' Literature, and a selection for the Schomburg Center's Black Liberation Reading List
Seventh grader Jordan Banks loves nothing more than drawing cartoons about his life. But instead of sending him to the art school of his dreams, his parents enroll him in a prestigious private school known for its academics, where Jordan is one of the few kids of color in his entire grade.
As he makes the daily trip from his Washington Heights apartment to the upscale Riverdale Academy Day School, Jordan soon finds himself torn between two worlds--and not really fitting into either one. Can Jordan learn to navigate his new school culture while keeping his neighborhood friends and staying true to himself?
This middle grade graphic novel is an excellent choice for tween readers, including for summer reading.
Plus don't miss Jerry Craft's Class Act!
Target age: 8 to 11
Reviews:
"Possibly one of the most important graphic novels of the year." -- Booklist 
"An engrossing, humorous, and vitally important graphic novel that should be required reading in every middle school in America." -- Kirkus Reviews 
"This is more than a story about being the new kid -- it's a complex examination of the micro -- and macroaggressions -- that Jordan endures from classmates and teachers. Highly recommended for all middle grade shelves." -- School Library Journal 
"This engaging story offers an authentic secondary cast and captures the highjinks of middle schoolers and the tensions that come with being a person of color in a traditionally white space." -- Publishers Weekly 
"Award-winning author/illustrator Jerry Craft confronts elitism, microaggression, racism, socioeconomic disparity and white privilege in a familiar setting. His preteen audiences will undoubtedly recognize and empathize with Craft's memorable cast." -- Shelf Awareness
About the Author:
Jerry Craft is a #1 New York Times bestselling author-illustrator who has worked on numerous picture books, graphic novels, and middle grade novels, including the Newbery Medal-winning graphic novel New Kid and its companion, Class Act. New Kid is also the winner of the Coretta Scott King Author Award and the Kirkus Prize. Jerry is the creator of Mama's Boyz, an award-winning syndicated comic strip. He has won five African American Literary Awards and is a cofounder of the Schomburg Center's Annual Black Comic Book Festival. He received his BFA from the School of Visual Arts and now lives in Connecticut.