---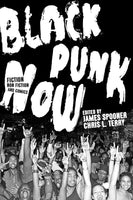 Edited by Chris L. Terry and James Spooner
Soft Skull
10/31/2023, paperback
SKU: 9781593767457
A canonizing, bold, and urgent anthology setting a new precedent for Black Punk Lit, created by generations of Black punks--featuring both new voices and those from the not-so-recent past
Black Punk Now is an anthology of contemporary nonfiction, fiction, illustrations, and comics that collectively describe punk today and give punks--especially the Black ones--a wider frame of reference. It shows all of the strains, styles, and identities of Black punk that are thriving, and gives newcomers to the scene more chances to see themselves.
Curated from the perspective of Black writers with connections to the world of punk, the collection mixes media as well as generations, creating a new reference point for music-lovers, readers, and historians by capturing the present and looking towards the future. With strong visual elements integrated throughout, this smart, intimate collection is demonstrative of punk by being punk itself: underground, rebellious, aesthetic but not static--working to decenter whiteness by prioritizing other perspectives.
Edited by graphic novelist and filmmaker James Spooner, and author Chris L. Terry, contributors to the collection include critic Hanif Abdurraqib and Mars Dixon, conversations with Brontez Purnell, and a roundtable of all femme festival organizers.
Reviews:
"With graphics, short stories, poems, lyrics, conversations, commentary, and notes on how capitalism naturally tries to co-opt cultural scenes and how Black punks naturally resist it, the anthology is a cornucopia of righteous resistance, both fun to read and energetically provocative... Great reading for punks of every persuasion, who, one hopes, will take it and change the world." -- Kirkus Reviews (starred review)
"If you find yourself Black, Punk, Now or anywhere in between on that spectrum, this book is like being handed a survival kit. It is messages in bottles fused into a buoyant life raft, a heart shaped mirror on a compass. It's x-ray goggles, a sword and a shield. Out of alienation, hard evidence of a global community. I LOVE this book, and am deeply inspired by it and everyone involved in its creation." -- Tunde Adebimpe, TV on the Radio
"I'm slightly angry for being pushed to cry in public many times while reading this book, and for the amount of conversations holding Black Punk Now has sparked. I've had as many conversations with strangers outside of this book as I did with those inside of it. Thank you for this work which enables me to see myself, to see my brother. I grew up on music and comics and with a deep feeling of isolation. There is great beauty in the outskirts. The fringe. The edge. And there's loneliness and questioning of yourself and the world--of how you look, of how you feel, and who you can confide in. Thank you for the hours that I spent inside of this collective work, feeling less alone. Thanks for also making this a relentless read in a soft way." -- Jean Grae (The Monarchy)
About the Editors:
James Spooner is known for directing the seminal documentary Afro-Punk (2003), and co-creating the Afro Punk Festival. His graphic memoir The High Desert, about being Black in small-town California and finding salvation in punk, came out in 2022.
Chris L. Terry is the author of the novel Black Card, one of NPR's best books of 2019. Terry's debut novel Zero Fade was on Best of 2013 lists by Slate and Kirkus Reviews. Born in 1979 to a Black father and white mother, Terry spent his late teens and early twenties touring as the vocalist for different Richmond, Virginia punk bands. He has a Creative Writing MFA from Columbia College Chicago, and now lives and teaches in Los Angeles. His recent work has appeared in Pitchfork, Stereogum, Razorcake, Very Smart Brothas/The Root, Catapult and theLAnd Magazine.