---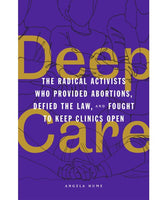 by Angela Hume
AK Press
11/14/2023, paperback
SKU: 9781849355261
The story of the radical feminists who worked outside the law to defend abortion. 
Starting in the 1970s, small groups of feminist activists met regularly to study anatomy, practice pelvic exams on each other, and learn how to safely perform a procedure known as menstrual extraction, which can end a pregnancy, using equipment easily bought and assembled at home. This "self-help" movement grew into a robust national and international collaboration of activists determined to ensure access to reproductive healthcare, including abortion, at all costs—to the point of learning how to do the necessary steps themselves.  
Even after abortion was legalized in 1973 with Roe v. Wade, activists continued meeting, studying, and teaching these skills, reshaping their strategies alongside decades of changing legal, medical, and cultural landscapes such as the legislative war against abortion rights, the AIDS epidemic, and the rise of anti-abortion domestic terrorism in the 1980s and 1990s. From the self-help movement sprang a constellation of licensed feminist clinics, community programs to promote reproductive health, even the nation's first known-donor sperm bank, all while fighting the oppression of racism, poverty, and gender violence. The movement's drive to keep abortion accessible also led to the first clinic defense mobilizations against anti-abortion extremists trying to force providers to close their doors.
Deep Care follows generations of activists and health workers who orbited the Women's Choice Clinic in Oakland from the early 1970s until 2010, as they worked underground and above ground, in small cells and broad coalitions and across political movements with grit, conviction, and allegiances of great trust to do what they believed needed to be done—despite the law, when required. Grounded in interviews with activists sharing details of their work for the first time, Angela Hume reveals this critical, under-recognized story of the radical edge of the abortion movement. These lessons are more pertinent than ever following the Supreme Court's 2022 Dobbs v. Jackson decision and the devastation to abortion access nationwide.
Reviews:
"This is a fearless and necessary work of history keyed to the dangerous days we live in. Deep Care draws on the deep wisdom of those who have been long in the struggle to defend bodily autonomy and radical self-determination. To transmit that knowledge across the generations is itself an act of revolution. Read this book--but more importantly, use this book. We all need to be down for the cause, more deeply now than ever." -- Susan Stryker, author of Transgender History: The Roots of Today's Revolution
"An important record of the secret history of how an eclectic gathering of women poets, musicians, community-based health care workers, grassroots activists, and visionary volunteers created underground abortion service provision in Oakland and fought to defend clinics as Roe v Wade was won and then eroded. Reminds and inspires us to see the treasure of creative collective solutions." -- Sarah Schulman, author of Let the Record Show: A Political History of ACT UP New York, 1987-1993
"A well-researched historical book documenting that women will do whatever is necessary--legally or illegally--to control their bodies. A much-needed deep examination of the intersections of white supremacy, misogyny, and class not often offered in books about abortion politics ... Certainly worth the read and should be taught in every Gender and Women's Studies course." -- Loretta Ross, co-founder of SisterSong Women of Color Reproductive Justice Collective and MacArthur Fellow
About the Author:
Angela Hume is a feminist historian, literary critic, and poet. She is the author of two poetry books, Interventions for Women and Middle Time, and co-editor of the book Ecopoetics: Essays in the Field. Her essays and interviews appear in Contemporary Literature, ISLE: Interdisciplinary Studies in Literature and Environment, Lana Turner, and others. She teaches writing at University of California, Berkeley.