---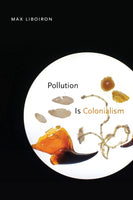 by Max Liboiron
Duke University Press
5/24/2021, paperback
SKU: 9781478014133
In Pollution Is Colonialism, Max Liboiron presents a framework for understanding scientific research methods as practices that can align with or against colonialism. They point out that even when researchers are working toward benevolent goals, environmental science and activism are often premised on a colonial worldview and access to land.
Focusing on plastic pollution, the book models an anticolonial scientific practice aligned with Indigenous, particularly Métis, concepts of land, ethics, and relations. Liboiron draws on their work in the Civic Laboratory for Environmental Action Research (CLEAR)-an anticolonial science laboratory in Newfoundland, Canada-to illuminate how pollution is not a symptom of capitalism but a violent enactment of colonial land relations that claim access to Indigenous land.
Liboiron's creative, lively, and passionate text refuses theories of pollution that make Indigenous land available for settler and colonial goals. In this way, their methodology demonstrates that anticolonial science is not only possible but is currently being practiced in ways that enact more ethical modes of being in the world.
Reviews:
"Although the book focuses on plastic pollution, it is relevant to all areas of science, because it illustrates the ways that colonialism can show up in the sciences. . . . I predict that it will inspire pragmatic yet profoundly ethical action during a time of dire news and institutional soul-searching. Untangling and resisting the Gordian knot of justifications, manipulations, and traditions that enable colonialism takes hard work and humility. I am grateful that Liboiron has written a primer to get us all started. It is rare that I read a book that so fundamentally shakes up my thinking."--Katie L. Burke "American Scientist"
"If you seek a methodologically creative, provocative and politically engaged book that confronts you with your own scholarly practice, you should certainly pick up this volume... Liboiron offers a model that exemplifies what engaged anticolonial feminist research practice should look like." -- Cæcilie Kramer "Ethnos"
"Pollution is Colonialism is a generative, life-giving, critical text... Students inside and outside of the academy, from diverse backgrounds across university, community, and government circles, must all pick up this book and learn from it." -- Sarah Marie Wiebe "Environmental Politics"
"Pollution Is Colonialism provides desperately needed analytic clarity on this settler colonial present... This book invites readers first and foremost to look at knowledge practices and forms of knowledge creation, to think about their land relations, and to recognize colonial land relations in their familiar, seemingly benign practices and techniques." -- Anna Stanley "Antipode"
About the Author:
Max Liboiron is Associate Professor of Geography at Memorial University.