---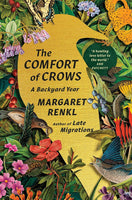 by Margaret Renkl 
Spiegel & Grau
10/24/2023, hardcover
SKU: 9781954118461
From the beloved New York Times opinion writer and bestselling author of Late Migrations comes a "howling love letter to the world" (Ann Patchett): a luminous book that traces the passing of seasons, personal and natural.
In The Comfort of Crows, Margaret Renkl presents a literary devotional: fifty-two chapters that follow the creatures and plants in her backyard over the course of a year. As we move through the seasons--from a crow spied on New Year's Day, its resourcefulness and sense of community setting a theme for the year, to the lingering bluebirds of December, revisiting the nest box they used in spring--what develops is a portrait of joy and grief: joy in the ongoing pleasures of the natural world, and grief over winters that end too soon and songbirds that grow fewer and fewer.
Along the way, we also glimpse the changing rhythms of a human life. Grown children, unexpectedly home during the pandemic, prepare to depart once more. Birdsong and night-blooming flowers evoke generations past. The city and the country where Renkl raised her family transform a little more with each passing day. And the natural world, now in visible flux, requires every ounce of hope and commitment from the author--and from us. For, as Renkl writes, "radiant things are bursting forth in the darkest places, in the smallest nooks and deepest cracks of the hidden world."
With fifty-two original color artworks by the author's brother, Billy Renkl, The Comfort of Crows is a lovely and deeply moving book from a cherished observer of the natural world.
Reviews:
"This triumph of a book gives us a charming and wise friend to guide us over the course of a year, but I am certain Margaret Renkl's enchanting voice will echo for lifetimes to come. The Comfort of Crows is an instant classic, not just for the planet, but--and most importantly--for our hearts too." -- Aimee Nezhukumatathil, author of World of Wonders
"Infused with empathy, The Comfort of Crows reminds us to treasure the living beings who surround us with each breath we take. Renkl's insights root us within our world... The book can be read straight through or stretched across the calendar as a weekly literary devotional. Billy Renkl's stunning collages provide an invitation to meditate, to pray, to breathe." -- BookPage (starred review)
About the Author:
Margaret Renkl is the author of Late Migrations: A Natural History of Love and Loss and Graceland, At Last: Notes on Hope and Heartache From the American South. She is a contributing opinion writer for The New York Times, where her essays appear weekly. The founding editor of Chapter 16, a daily literary publication of Humanities Tennessee, and a graduate of Auburn University and the University of South Carolina, she lives in Nashville.