---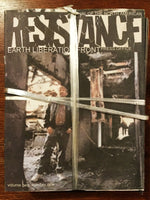 by the North American Earth Liberation Front Press Office

Spring 2001, volume two, number one

8.25" x 10.75" staple-bound newsprint, 32 pages

SKU: n/a
Just found this bundle of original copies of an Earth Liberation Front Press Office periodical that was lost in storage for the last twenty years!
Highlights include a diary of actions spanning from October of 2000 through April of 2001, an account of the FBI's second raid on the Press Office complete with photos of raiding agents, Josh Harper's story of federal grand jury resistance including the list of questions he was asked, and an article on the first ELF case against Frank Ambrose (which he defeated before later informing on Marius Mason). The cover features the owner of Superior Lumber standing in the remains of the ELF's New Year's Day 2001 arson attack.
True to the times, this is peppered with ideological rants, big sans-serif fonts, and over-enlarged low-resolution photos stolen off the fledgling internet. Lost your copy from back in the day? Want a piece of radical underground environmental history? Get 'em while they last...