---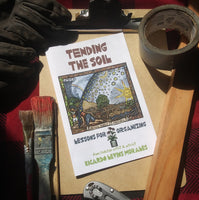 by Ricardo Levins Morales
RLM Arts
2020, pamphlet
SKU: n/a
In the wake of the 2020 election, social justice activists and organizers have a little more breathing room to push for systemic, transformative change. At this critical time, what questions do we need to ask, and what principles must we keep in mind, to make our movements for justice fruitful?
This 24 page zine/pamphlet featuring Ricardo's works and artwork contains 8 short lessons, drawing on his his over five decades of organizing. The lessons began as a series of short videos produced by Line Break Media. In zine format, the compilation is 5.5×8.5″ with each spread featuring full color artwork relevant to the text.
About the Author:
Ricardo Levins Morales is an artist and organizer based in Minneapolis. He uses his art as a form of political medicine to support individual and collective healing from the injuries and ongoing reality of oppression.