---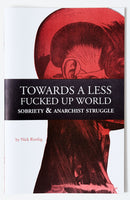 by Nick Riotfag
Radix Media
2016, booklet
SKU: n/a
This essay on radical sobriety is currently in its third press run by Radix Media. It was offset printed on recycled paper.
A crucial resource for sober and non-sober folks alike, Towards a Less Fucked Up World: Sobriety and Anarchist Struggle explores the connections between intoxication and different types of oppression. In a clear and engaging writing style, author and activist Nick Riotfag presents a brilliant analysis on sobriety, radical communities, safe spaces and accountability.
In the ten years since it was released, this essay has moved and inspired hundreds, maybe thousands of people. It was first self-published in 2003 and has been but a ghost in recent years.

About the Author:
Nick Riotfag is an anarchist, queer and straight edge activist/writer based in North Carolina.