---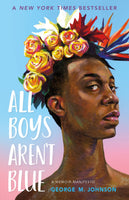 by George M. Johnson
Farrar, Strauss and Giroux
4/28/2020, hardcover
SKU: 9780374312718
In a series of personal essays, prominent journalist and LGBTQIA+ activist George M. Johnson explores his childhood, adolescence, and college years in New Jersey and Virginia. From the memories of getting his teeth kicked out by bullies at age five, to flea marketing with his loving grandmother, to his first sexual relationships, this young-adult memoir weaves together the trials and triumphs faced by Black queer boys.
Both a primer for teens eager to be allies as well as a reassuring testimony for young queer men of color, All Boys Aren't Blue covers topics such as gender identity, toxic masculinity, brotherhood, family, structural marginalization, consent, and Black joy. Johnson's emotionally frank style of writing will appeal directly to young adults.
Target age: 14 to 18
Reviews:
"An absolute necessity . . . the personal stories and the healing and reconciliation of self in this title are all undeniably honest and relatable--a reminder of our shared imperfection and humanity." --Booklist 
"The conversational tone will leave readers feeling like they are sitting with an insightful friend . . . This young adult memoir is a contemporary hallmark of the blossoming genre. Johnson anchors the text with encouragement and realistic guidance for queer Black youth." -- School Library Journal
"Johnson's debut is a collection of heartfelt personal essays revolving around themes of identity and family . . . In a publishing landscape in need of queer black voices, readers who are sorting through similar concepts will be grateful to join him on the journey." -- Publishers Weekly
"Powerful . . . Johnson's book is geared toward young adults--a market that needs this level of realness about everything from finding and harboring joy to bullying to navigating queerness. All Boys Aren't Blue is a game changer." - Bitch Magazine
About the Author:
George M. Johnson is a writer and activist based in New York. They have written on race, gender, sex, and culture for Essence, the Advocate, BuzzFeed News, Teen Vogue, and more than forty other national publications. George has appeared on BuzzFeed's AM2DM as well as on MSNBC. All Boys Aren't Blue is their debut, and was an Amazon Best Book of the Year, an Indie Bestseller, a People Magazine Best Book of the Year, and optioned for television by Gabrielle Union. The New York Times called it an exuberant, unapologetic memoir infused with a deep but cleareyed love for its subjects. At the time of publication, George used he/him pronouns.