---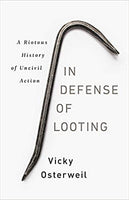 by Vicky Osterweil
Bold Type Books
8/25/2020, hardcover
SKU: 9781645036692
A fresh argument for rioting and looting as our most powerful tools for dismantling white supremacy

Looting--a crowd of people publicly, openly, and directly seizing goods--is one of the more extreme actions that can take place in the midst of social unrest. Even self-identified radicals distance themselves from looters, fearing that violent tactics reflect badly on the broader movement.
But Vicky Osterweil argues that stealing goods and destroying property are direct, pragmatic strategies of wealth redistribution and improving life for the working class--not to mention the brazen messages these methods send to the police and the state. All our beliefs about the innate righteousness of property and ownership, Osterweil explains, are built on the history of anti-Black, anti-Indigenous oppression.
From slave revolts to labor strikes to the modern-day movements for climate change, Black lives, and police abolition, Osterweil makes a convincing case for rioting and looting as weapons that bludgeon the status quo while uplifting the poor and marginalized. In Defense of Looting is a history of violent protest sparking social change, a compelling reframing of revolutionary activism, and a practical vision for a dramatically restructured society.
Reviews:
"In Defense of Looting is a clear and damning indictment of the origins and evolution of property rights, race, and policing in the United States. Ultimately, Osterweil demands we not only overcome the respectability politics animating our desire for 'peaceful protests, ' but that we ambitiously work to abolish the racial capitalist logics at the heart of American empire."-- Zoé Samudzi, coauthor of As Black As Resistance
"In engaging and accessible prose, Vicky Osterweil lays out an intellectual defense of looting that is as thorough and compelling as it is necessary and revolutionary. The history here is alive and vital, and Osterweil's grasp of it pushes any reader who has doubted the legitimacy of looting as a political action to search deeply and reconsider their position."-- Mychal Denzel Smith, author of Stakes Is High: Life After the American Dream
About the Author:
Vicky Osterweil is a writer, editor, and agitator and a regular contributor to The New Inquiry. Her writing has also appeared in The Baffler, The Nation, The Rumpus, Real Life, and Al Jazeera America. She lives in Philadelphia.