---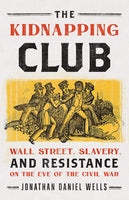 by Jonathan Daniel Wells
Bold Type Books
10/20/2020, hardcover
SKU: 9781568587523
In a rapidly changing New York, two forces battled for the city's soul: the pro-slavery New Yorkers who kept the illegal slave trade alive and well, and the abolitionists fighting for freedom.
We often think of slavery as a southern phenomenon, far removed from the booming cities of the North. But even though slavery had been outlawed in Gotham by the 1830s, Black New Yorkers were not safe. Not only was the city built on the backs of slaves; it was essential in keeping slavery and the slave trade alive.
In The Kidnapping Club, historian Jonathan Daniel Wells tells the story of the powerful network of judges, lawyers, and police officers who circumvented anti-slavery laws by sanctioning the kidnapping of free and fugitive African Americans. Nicknamed "The New York Kidnapping Club," the group had the tacit support of institutions from Wall Street to Tammany Hall whose wealth depended on the Southern slave and cotton trade. But a small cohort of abolitionists, including Black journalist David Ruggles, organized tirelessly for the rights of Black New Yorkers, often risking their lives in the process.
Taking readers into the bustling streets and ports of America's great Northern metropolis, The Kidnapping Club is a dramatic account of the ties between slavery and capitalism, the deeply corrupt roots of policing, and the strength of Black activism.
Reviews:
"A convincing demonstration of the close links between capitalism and the unconscionable trade in human beings."-- Kirkus
"The Kidnapping Club maps and specifies both the top-side financial connections between the capitalists of the North and the slavers of the South and the underbelly of police corruption, violence, and kidnapping that knit together. And it manages to combine acute historical analysis with literary drama and a persistent, gentle humanity. You should read it."-- Walter Johnson, author of The Broken Heart of America: St. Louis and the Violent History of the United States
About the Author:
Jonathan Daniel Wells is a social, cultural, and intellectual historian and a Professor of History in the Departments of Afroamerican and African Studies at the University of Michigan. He is currently a Visiting Scholar at Gonville & Caius College at the University of Cambridge. His published works include The Origins of the Southern Middle Class, Women Writers and Journalists in the Nineteenth-Century South, and A House Divided: The Civil War and Nineteenth-Century America. He lives in Detroit, Michigan.