---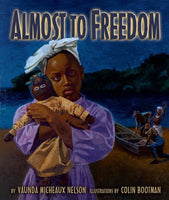 by Vaunda Micheaux Nelson, Illustrations by Colin Bootman
Carolrhoda Books
2003, hardcover
SKU: 9780439631563
Lindy and her doll Sally are best friends - wherever Lindy goes, Sally stays right by her side. They eat together, sleep together, and even pick cotton together. So, on the night Lindy and her mama run away in search of freedom, Sally goes too. This young girl's rag doll vividly narrates her enslaved family's courageous escape through the Underground Railroad. At once heart-wrenching and uplifting, this story about friendship and the strength of the human spirit will touch the lives of all readers long after the journey has ended.
Reviews:
"A compelling story told from the point of view of an enslaved child's beloved rag doll. This accessible story. . . makes its impact without frightening or overwhelming readers. It is ultimately a story of hope and resilience, love and friendship. The evocative oil paintings are expertly rendered and effectively convey the powerful emotions of the tale." --School Library Journal
"Through Sally's perceptive eyes, readers catch a hard-hitting glimpse of slave life. . . A captivating account of escape via the Underground Railroad includes many suspenseful moments. . . Nelson's writing is immediate and often lyrical. Yet it is Bootman's realistic paintings, distinctive for their skillful use of light and darkness, that best convey the story's pathos and urgency." --Publishers Weekly
The youngest of five children, Vaunda Micheaux Nelson grew up in Elizabeth, Pennsylvania. She is the author of No Crystal Stair, Bad News for Outlaws: The Remarkable Life of Bass Reeves, Deputy U.S. Marshal  and Almost to Freedom. She co-authored Juneteenth with her husband, Drew Nelson.
Almost to Freedom received a Coretta Scott King Honor for Colin Bootman's illustrations.
Colin Bootman is the award-winning illustrator of many books for children, including Young Frederick Douglass, Almost to Freedom, and The Steel Pan Man of Harlem-which he also wrote. He and his books have received numerous awards, including the Coretta Scott King Illustrator Honor, the Schneider Family Book Award, and the Teacher's Choice Award. Born in Trinidad, Mr. Bootman came to the United States at the age of seven and found that art helped him cope with his new environment. Once a young artist himself, Mr. Bootman hopes his art can encourage children to follow their dreams and embrace their passions.