---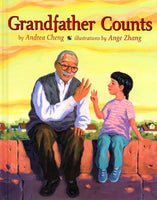 by Andrea Cheng, illustrated by Ange Zhang
Lee & Low Books
2000, paperback
SKU: 9781584301585
Gong Gong (Grandfather) is coming from China to live with Helen's family. Helen is excited, but anxious. How will she and her siblings, who know only English, communicate with Gong Gong, who speaks only Chinese?
At first Gong Gong keeps to himself, reading the Chinese newspapers he brought with him. Then one day, as Helen sits outside watching for the train that runs behind her house, Gong Gong joins her. He starts counting the train cars in Chinese, and then teaches Helen the words. Helen reciprocates by teaching Gong Gong to count in English. Soon Helen and Gong Gong are teaching each other more words, and a special bond between them begins to develop and grow.
A moving intergenerational story, Grandfather Counts highlights the universality of the love shared between grandparent and grandchild, a love that helps them cross the boundaries of language and culture.