---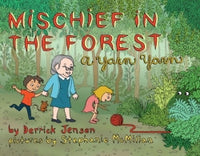 by Derrick Jensen, Pictures by Stephanie McMillan
PM Press
2010, hardcover
SKU: 6781604860818
Grandma Johnson lives alone in the forest and loves to knit sweaters and mittens for her grandchildren in the city. One day, when returning from a visit to the city, her solitude comes to an end when her mischievous forest neighbors reveal themselves in a delightfully colorful fashion. Who took her yarn, and what have they done with it?
The colorful mystery is solved when the birds, rabbits, snakes, trees, and other dwellers of Grandma Johnson's neighborhood are seen playing with the yarn. Suddenly the forest doesn't seem so lonely, and the visiting grandkids take great delight getting to know the inhabitants of Grandma's forest. This picture book is a lesson for both young and old to connect with one's surroundings and embrace the role of good neighbors with the rest of the natural world, whether in the city or in the forest.
About the Author:
Hailed as the philosopher poet of the ecological movement, Derrick Jensen is the widely acclaimed author of Endgame, A Language Older Than Words, Songs of the Dead, and How Shall I Live My Life? among many others. Author, teacher, activist, and leading voice of uncompromising dissent, he regularly stirs auditoriums across the country with revolutionary spirit. He lives in Crescent City, California.
About the Illustrator:
Stephanie McMillan creates the comic strip Minimum Security five days a week for United Media's comics.com, and her hard-hitting political cartoons have been published in dozens of publications internationally. She co-authored, with Derrick Jensen, the graphic novel As the World Burns: 50 Simple Things You Can Do to Stay in Denial (2007, Seven Stories Press), and her comics are collected in the book Attitude Presents: Minimum Security (2005, NBM Publications).