---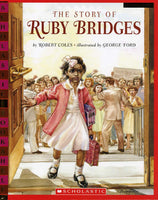 by Robert Coles, Illustrated by George Ford
Scholastic Paperbacks
9/1/2010, paperbacks

SKU: 9780439472265
This is the true story of an extraordinary 6-year-old who helped shape history when she became the first African-American sent to first grade in an all white school. This moving book captures the courage of a little girl standing alone in the face of racism.
As the first black child to attend an all-white elementary school, six-year-old Ruby Bridges finds herself in the center of a storm of hatred and prejudice.
Each day, Ruby faces angry protesters as she is escorted to and from the first grade by federal marshals. With courage and dignity beyond her years, she becomes an important part of history and and example for all Americans. This is her extraordinary story.
Target age: 4 to 8
About the Contributors:
Pulitzer Prize-winner Robert Coles present a moving portrayal that captures a young girl's amazing courage and faith.
George Ford's powerful illustrations bring to life and important event in American history.