---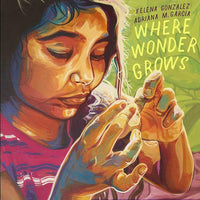 by Xelena Gonzalez, Illustrated by Adriana M. Garcia
Cinco Puntos Press
1/11/2022, hardcover
SKU: 9781947627468
From the creators of the award-winning picture book All Around Us comes another lyrical inter-generational story exploring our connections to nature, family, and traditions.
When Grandma walks to her special garden, her granddaughters know to follow her there. Grandma invites the girls to explore her collection of treasures--magical rocks, crystals, seashells, and meteorites--to see what wonders they reveal. They are alive with wisdom, Grandma says. As her granddaughters look closely, the treasures spark the girls' imaginations. They find stories in the strength of rocks shaped by volcanoes, the cleansing power of beautiful crystals, the mystery of the sea that houses shells and shapes the environment, and the long journey meteorites took to find their way to Earth. This is the power of Grandma's special garden, where wonder grows and stories blossom.
Reviews:
"Lyrical words by González (a member of the Tap Pilam Coahuiltecan Nation) emphasize the intergenerational ties that bind the characters and show Indigenous knowledge in the process of being passed down. Garcia's portraits center affectionate familial gestures alongside mural-like views of sunset skies and evocative representations of fire, earth, air, and water." -- Publishers Weekly
"This author-illustrator team offers their readers a thought-provoking, mind-expanding piece of art that shows gratitude to our planet." -- Booklist

"A breath-taking exploration into the wonder of the natural world." -- Latinx In Publishing
About the Contributors:
Xelena González is a storyteller, a screenwriter, a poet, and an author of picture books. Her storytelling skills were honed as a children's librarian in San Antonio, Texas, and in an international school in Guangzhou, China. As a visiting author, she has introduced her method of tai chi storytelling to more than sixty schools and libraries around the United States. She is a member of the Tap Pilam Coahuiltecan Nation and still lives in San Antonio, where she grew up. You can find out more about González and her work at https: //www.xelena.space/.
Adriana M. Garcia is a visual artist, a muralist, and an illustrator. She is the recipient of a Pura Belpré Illustrator Award Honor for her debut picture book, All Around Us by Xelena González. Garcia has exhibited her artwork nationally and has presented at conferences, schools, and museums around the United States. She especially loves painting portraits of strong women to honor those who have come before and those who continue to lead by example. Garcia lives in San Antonio, Texas, and you can find her online at adrianamjgarcia.com.