---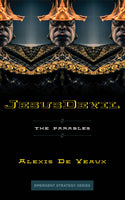 by Alexis De Veaux
AK Press
6/13/2023, paperback
SKU: 9781849355063
A brilliantly crafted voyage of queer, black possibility.
Evocative and experimental, JesusDevil is a nonlinear tale of black life and spiritual expression. Writing in a style she calls "afiction," Alexis De Veaux expands and moves beyond traditional narrative, following the adventures of Fhill, a black, queer spirit who has taken human form. Neither male nor female, Fhill moves fluidly and disruptively across concepts of identity, passing through the nine "parables" that comprise this text. Examining aspects of what it means to be black and human--from a nonhuman perspective--Fhill's liminal nature redefines social and literary categories, exploring social constructions of blackness as well as themes of desire, memory, sex, revenge, and more. A daring new work and crowning achievement from a veteran storyteller. Cover art by Sokari Ekine, photographer and visual artist.
Check out the rest of the Emergent Strategy series here.
Reviews:
"In this timely work, Alexis weaves through and beyond the many ways that a parable can live. She speaks of viruses, sheltering in and folks losing their sense of taste in stories where the dead rise, slay, shake themselves loose and rumble us with their sexy. In this afiction, ancient beings from the future take us down and up roads that can only be detailed in a structure that defies naming. Once again, Alexis has written a book of holy queer, new possibilities. Get ready to open, pause, and wonder." -- Sharon Bridgforth, author of 2003 Lambda Literary Finalist love conjure/blues and recipient of a 2022 Windham Campbell Prize in Drama
"Our ancestral past, present, and future share a concentric relationship in De Veaux's prophetic, JesusDevil: The Parables. In these after [other] worlds, Black life is autopoietic. Black life recreates, reproduces, and changes shape, sound, and color. JesusDevil arranges and makes meaning and rhythm through erotic exercise and language. These articulations of the sacred are not about orthodox practice; they are "black sermonic text" of the quotidian, an aesthetic of the ordinary. The body, as De Veaux poeticizes, expands language and biology. The body pussys both itself and other, the body is self and other. De Veaux's nine parables are vestibules of possibility and proof that the imagination is the genesis of promise." -- Briona S. Jones, editor of 2021 Lambda Literary Award Winner Mouths of Rain: An Anthology of Black Lesbian Thought
About the Author:
Alexis De Veaux is a black queer feminist independent scholar whose internationally known work is published in six languages. She has been publishing fiction, poetry, plays, memoirs, and children's literature since 1973, and her work is anthologized in numerous collections. De Veaux is the author of Yabo and Warrior Poet: A Biography of Audre Lorde; and was tenured faculty at the University at Buffalo, Department of Women's Studies, for more than twenty years, mentoring a new generation of interdisciplinary scholars of black, feminist, and queer studies.