---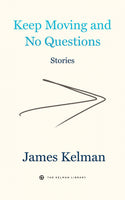 by James Kelman
PM Press
8/22/2023, paperback
SKU: 9781629639673
James Kelman's inimitable voice brings the stories of lost men to light
in these twenty-one tales of down on their luck antiheroes who wander,
drink, hatch plans, ponder existence, and survive in an unwelcoming and
often comic world.
Keep Moving and No Questions is a collection of the finest examples of Kelman's facility with dialog, stream-of-consciousness narrative, and sharp cultural observation. Class is always central in these brief glimpses of men abiding the hands they've been dealt. An ideal introduction to Kelman's work and a wonderful edition for fans and Kelman completists, this lovely volume will make clear why James Kelman is known as the greatest living modernist writer. Five of the stories collected here are brand new, and the rest have been significantly revised by the author for this definitive edition.
Reviews:

"James Kelman changed my life." -- Douglas Stuart, author of Shuggie Bain
"Probably the most influential novelist of the post-war period." -- The Times
About the Author:
James Kelman was born in Glasgow, June 1946, and left school in 1961. He began work in the printing trade then moved around, working in various jobs in various places. He was living in England when he started writing: ramblings, musings, sundry phantasmagoria. He committed to it and kept at it. In 1969 he met and married Marie Connors from South Wales. They settled in Glasgow and still live in the dump, not far from their kids and grandkids. He still plugs away at the ramblings, musings, politicking and so on, supported by the same lady.