---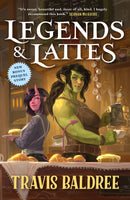 by Travis Baldree
Tor Books
11/8/2022, paperback
SKU: 9781250886088
After a lifetime of bounties and bloodshed, Viv is hanging up her sword for the last time.
The battle-weary orc aims to start fresh, opening the first ever coffee shop in the city of Thune. But old and new rivals stand in the way of success -- not to mention the fact that no one has the faintest idea what coffee actually is.
If Viv wants to put the blade behind her and make her plans a reality, she won't be able to go it alone.
But the true rewards of the uncharted path are the travelers you meet along the way. And whether drawn together by ancient magic, flaky pastry, or a freshly brewed cup, they may become partners, family, and something deeper than she ever could have dreamed.
Reviews:
"An orc retires from adventuring to start a fantasy city's very first coffee shop. This setup combined with the positive messages of defying societal stereotypes, letting go of violence to build peace, and trusting in your friends feels like a premise from Terry Pratchett's Discworld... Legends & Lattes is a novel, and shop, that will delight anyone who enjoys coffee-shop alternate universes, slow-burn romances, and the vindication of friendship." -- Booklist, starred review
"Baldree's book is beautiful and uplifting, a soothing tonic in our troubled times. Escape into its pages and you won't ever want to leave." -- T. L. Huchu, author of The Library of the Dead
About the Author:
Travis Baldree is a full-time audiobook narrator who has lent his voice to hundreds of stories. Before that, he spent decades designing and building video games like Torchlight, Rebel Galaxy, and Fate. Apparently, he now also writes books. He lives in the Pacific Northwest with his very patient family and their small, nervous dog.