---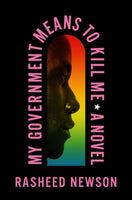 by Rasheed Newson
Flatiron Books
8/22/2023, paperback
SKU: 9781250833549
Earl "Trey" Singleton III arrives in New York City with only a few dollars in his pocket. Born into a wealthy Black Indianapolis family, at 17, he is ready to leave his overbearing parents and their expectations behind.
In the city, Trey meets up with a cast of characters that changes his life forever. He volunteers at a renegade home hospice for AIDS patients, and after being put to the test by gay rights activists, becomes a member of the AIDS Coalition to Unleash Power (ACT UP). Along the way Trey attempts to navigate past traumas and searches for ways to maintain familial relationships--all while seeking the meaning of life amid so much death.
Vibrant, humorous, and fraught with entanglements, Rasheed Newson's My Government Means to Kill Me is an exhilarating, fast-paced coming-of-age story that lends itself to a larger discussion about what it means for a young gay Black man in the mid-1980s to come to terms with his role in the midst of a political and social reckoning.
Reviews:
"Fresh, vibrant and utterly unapologetic. Rasheed Newson has written an unforgettable, take-no-prisoners novel alive with humor and full of urgency. Newson's Trey and his determination to live life on his own terms, even in the face of death all around him, brings into three dimension an era of New York Queer life that, too often, has been flattened and whitewashed by history." -- Xochitl Gonzalez, author of New York Times bestseller Olga Dies Dreaming
"Delightful and fast-paced, a fascinating narrative of queer activism during the AIDS epidemic." -- Kirkus
"Newson's attention to historical details gives this moving novel a sense of urgency and immediacy." -- Book Riot
"Extraordinary... shines a vivid light onto underappreciated aspects of our history through the life of a gay Black teenager... The book's greatest charm lies in the sensitivity and subtlety of its narrative." -- The New York Times Book Review
About the Author:

Rasheed Newson is a writer and producer of Bel-Air, The Chi, and Narcos. He currently resides in Pasadena, California with his husband and two children. My Government Means to Kill Me is his debut novel.