---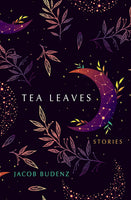 by Jacob Budenz
Bywater Books
9/19/2023, paperback
SKU: 9781612942759
Tea Leaves is an astonishing collection of fables for our time by a young writer of tremendous power and promise.
Tea Leaves presents 16 speculative short stories that place queer characters in larger-than-life situations to emphasize the surreal experience of marginalization. A queer romance spans multiple incarnations, but only in doomed cities. A gay medieval scholar must testify for his life to the otherworldly octopus who traps him in a cafe bathroom. Ignoring their better judgment, a witch brings their mortal partner on a hunt for a dangerous sorcerer and must cope with the dire consequences.
Each of the stories within Tea Leaves explores the urgency of modern queer life in encounters between the otherworldly and the queer other. In juxtaposing queer narratives with new, larger-than-life myths, Tea Leaves both exalts and lampoons the queer experience while examining the sometimes surreal obstacles of marginalization.
Reviews:
"These stories are fabulous, in every sense: beautifully queer fables set in a familiar world of food trucks and AirBnBs, but with just enough magic to set it all askew and show us the wonderful absurdity of the mundane--and the abiding miracle of love even amidst the uncertainty of our minds and the frailties of our ever-aging bodies. Budenz's prose is quick and sharp, full of charms that whisk us into the darkest forests of the human condition. In Tea Leaves, we experience the fearsome joy of inhabiting the world in other bodies." -- Baynard Woods, author of Inheritance: An Autobiography of Whiteness
"The stories of Tea Leaves flit expertly between the numinous and the mundane. This collection by Jacob Budenz is both a charm against the banal and a come-hither to the hidden forces of the universe." -- dave ring, author and Shirley Jackson Award-winning editor of Unfettered Hexes: Queer Tales of Insatiable Darkness
About the Author:
Jacob Budenz is a queer writer, multi-disciplinary performer, educator, and witch with an MFA from the University of New Orleans and a BA from Johns Hopkins University whose work explores the intersections between otherness and the otherworldly. A 2020 winner of the Baker Innovative Projects Grant for Simaetha: a Dreambaby Cabaret, Jake has work in journals including Slipstream, Taco Bell Quarterly, Baffling, Wussy Magazine, and more, as well as anthologies by Mason Jar Press and Lycan Valley publications.