---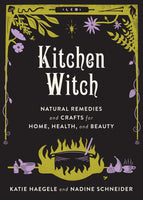 by Katie Haegele and Nadine Schneider
Microcosm Publishing
11/12/2021, hardcover
SKU: 9781648410413
Cast a spell to turn your kitchen into a healthy haven. Learn about traditional healing methods, gain practical DIY skills, and extricate yourself from reliance on the toxic consumer products that we have come to take for granted. Recipes and tips cover all aspects of a natural lifestyle, from home and garden to body and mind. Simple instructions and a thorough list of tools and ingredients provides you with everything you need to get started, while the annotated bibliography steers curious readers to even more information. Simple, traditional living can connect us with our ancestors, our children, and ourselves, especially during this time of political turmoil and environmental crisis.
About the Authors:
Katie Haegele lives in Philadelphia, where she writes and works at a linguistic research lab. She has written dozens of zines and three books, and her personal and critical essays have run in a variety of publications. Together with her husband Joseph Carlough, she runs a zine library called the East Falls Zine Reading Room, where they host performances by poets, storytellers, and musicians. She is also, of course, a passionate kitchen witch, and loves foraging for the natural materials she uses to decorate her home.  
Nadine Schneider is motivated by curiosity. She tears through books on topics such as critical theory, the history of science, and whatever she has just heard about on NPR. As a nature enthusiast she spends a lot of time studying changes in the garden and observing wildlife in the backyard, noting the comings and goings of the squirrels like a nosy neighbor. When the kitchen isn't covered in the remnants of a DIY experiment, she's in there channeling her German grandmothers as she bakes.