---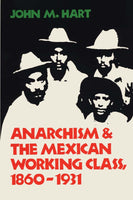 by John M. Hart
University of Texas Press
4/1/1978, paperback
SKU: 9780292704008
The anarchist movement had a crucial impact upon the Mexican working class between 1860 and 1931. John M. Hart destroys some old myths and brings new information to light as he explores anarchism's effect on the development of the Mexican urban working-class and agrarian movements.
Hart shows how the ideas of European anarchist thinkers took root in Mexico, how they influenced revolutionary tendencies there, and why anarchism was ultimately unsuccessful in producing real social change in Mexico. He explains the role of the working classes during the Mexican Revolution, the conflict between urban revolutionary groups and peasants, and the ensuing confrontation between the new revolutionary elite and the urban working class.
The anarchist tradition traced in this study is extremely complex. It involves various social classes, including intellectuals, artisans, and ordinary workers; changing social conditions; and political and revolutionary events which reshaped ideologies. During the nineteenth century the anarchists could be distinguished from their various working- class socialist and trade unionist counterparts by their singular opposition to government. In the twentieth century the lines became even clearer because of hardening anarchosyndicalist, anarchistcommunist, trade unionist, and Marxist doctrines. In charting the rise and fall of anarchism, Hart gives full credit to the roles of other forms of socialism and Marxism in Mexican working-class history.
Mexican anarchists whose contributions are examined here include nineteenth-century leaders Plotino Rhodakanaty, Santiago Villanueva, Francisco Zalacosta, and José María Gonzales; the twentieth-century revolutionary precursor Ricardo Flores Magón; the Casa del Obrero founders Amadeo Ferrés, Juan Francisco Moncaleano, and Rafael Quintero; and the majority of the Centro Sindicalista Ubertario, leaders of the General Confederation of Workers.
This work is based largely on primary sources, and the bibliography contains a definitive listing of anarchist and radical working-class newspapers for the period.
Reviews:
"Professor Hart has produced a pioneer work which be the starting point for all future research on the subject. It is clear, it is comprehensive, it is fair minded, and it fills a conspicuous gap in anarchist historiography." -- Labor History
"...a significant contribution to the intellectual history of Mexico." -- Library Journal 
About the Author:
John M. Hart is the John and Rebecca Moores Professor of History at the University of Houston.