---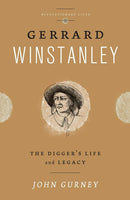 by John Gurney
Pluto Press
11/9/2012
SKU: 9780745331836
Christian Communist, leader of the Diggers movement and bete noire of the landed aristocracy, Gerard Winstanley (1609-1676) was one of the founders of a movement which fought for the redistribution of land and the abolition of wages and property under Oliver Cromwell.
John Gurney reveals the hidden history of Winstanley and his movement. As part of the radical ferment which swept England at the time of the civil war, Winstanley led the Diggers in taking over land and running it as 'a common treasury for all' - provoking violent opposition from landowners. Gurney also guides us through Winstanley's writings, which are among the most remarkable prose writings of his age.
Gurney proves that the Diggers, (or the New Levellers, as they called themselves) remain as an inspiration to many radical movements today.
Reviews:
"Outstanding. An exciting and extremely well-written account of Winstanley's development as thinker and experimental communist." -- Nigel Smith, William and Annie S. Paton Foundation Professor of Ancient and Modern Literature, Princeton University
"Years of painstaking research have been condensed into a clear, lively, and informative discussion. Indeed, even for specialists there is a fair amount of new material here... an excellent introduction" -- Ariel Hessayon, The Historian
About the Author:
John Gurney (1960-2014) was a Visiting Fellow in the School of Historical Studies, Newcastle University and author of Brave Community: The Digger Movement in the English Revolution.