---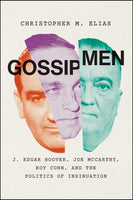 by Christopher M. Elias
University of Chicago Press
9/30/2022, paperback
SKU: 9780226823935
J. Edgar Hoover, Joseph McCarthy, and Roy Cohn were titanic figures in mid-century America, wielding national power in government and the legal system through intimidation and insinuation. Hoover's FBI thrived on secrecy, threats, and illegal surveillance, while McCarthy and Cohn will forever be associated with the infamous anticommunist smear campaign of the early 1950s, which culminated in McCarthy's public disgrace during televised Senate hearings. In Gossip Men, Christopher M. Elias takes a probing look at these tarnished figures to reveal a host of startling new connections among gender, sexuality, and national security in twentieth-century American politics. Elias illustrates how these three men solidified their power through the skillful use of deliberately misleading techniques like implication, hyperbole, and photographic manipulation. Just as provocatively, he shows that the American people of the 1950s were particularly primed to accept these coded threats because they were already familiar with such tactics from widely popular gossip magazines.
By using gossip as a lens to examine profound issues of state security and institutional power, Elias thoroughly transforms our understanding of the development of modern American political culture.
Reviews:
"Gossip Men is a terrific book about a trio of fascinating (if not necessarily terrific) political men. Hoover, McCarthy, and Cohn helped to create the modern security state. As this book shows, they also helped to create--and were created by--fierce public and private contests over masculinity, sexuality, and secrecy. Gossip Men is an important cultural history and a thoroughly engaging read." -- Beverly Gage, Yale University
"Gossip Men is compellingly written and fun to read from beginning to end. Elias tracks the emergence of surveillance state masculinity and highlights the role of the gossip industry in its creation and reproduction in a novel way, excellently integrating biography, media studies, and history." -- Shanon Fitzpatrick, McGill University

"A juicy introduction to three of the most controversial figures in 20th-century American politics... Well-researched and stimulating... Elias vividly describes the era's political battles, tabloid magazines, and dramatic Senate hearings, and persuasively identifies the influence of the "surveillance state masculinity" embodied by his three subjects on the political rise of Donald Trump." -- Publishers Weekly

About the Author:
Christopher M. Elias is assistant professor of history at the American University in Cairo.