---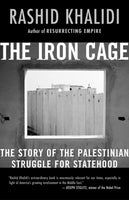 by Rashid Khalidi
Beacon Press
9/1/2007, paperback
SKU: 9780807003091
At a time when a lasting peace between the Palestinians and the Israelis seems virtually unattainable, understanding the roots of their conflict is an essential step in restoring hope to the region. In The Iron Cage, Rashid Khalidi, one of the most respected historians and political observers of the Middle East, homes in on Palestinian politics and history. By drawing on a wealth of experience and scholarship, Khalidi provides a lucid context for the realities on the ground today, a context that has been, until now, notably lacking in our discourse.
The story of the Palestinian search to establish a state begins in the mandate period immediately following the breakup of the Ottoman Empire, the era of British control, when fledgling Arab states were established by the colonial powers with assurances of eventual independence. Mandatory Palestine was a place of real promise, with unusually high literacy rates and a relatively advanced economy. But the British had already begun to construct an iron cage to hem in the Palestinians, and the Palestinian leadership made a series of errors that would eventually prove crippling to their dream of independence.
The Palestinians' struggle intensified in the stretch before and after World War II, when colonial control of the region became increasingly unpopular, population shifts began with heavy Jewish immigration from Eastern Europe, and power began to devolve to the United States. In this crucial period, Palestinian leaders continued to run up against the walls of the ever-constricting iron cage. They proved unable to achieve their long-cherished goal of establishing an independent state--a critical failure that set a course for the decades that followed, right through the eras of the Palestinian Liberation Organization, the Palestinian Authority, and Hamas. Rashid Khalidi's engrossing narrative of this torturous history offers much-needed perspective for anyone concerned about peace in the Middle East.
Reviews:
"A work of forceful historical analysis written in a spirit of self-examination." -- Bashir Abu-Manneh, The Nation
"Magisterial in scope, meticulous in its attention to detail, and decidedly dispassionate in its analysis, The Iron Cage is destined to be a benchmark of its genre." -- Joel Schalit, Tikkun
About the Author:
Rashid Khalidi is the author of seven books about the Middle East, including Palestinian Identity, Brokers of Deceit, Resurrecting Empire, The Iron Cage, and Sowing Crisis. His writing on Middle Eastern history and politics has appeared in the New York Times, Boston Globe, Los Angeles Times, Chicago Tribune, and many journals. For his work on the Middle East, Professor Khalidi has received fellowships and grants from the John D. and Catherine T. MacArthur Foundation, the Ford Foundation, the Woodrow Wilson International Center for Scholars, the American Research Center in Egypt, and the Rockefeller Foundation, among others. He is the Edward Said Professor of Modern Arab Studies at Columbia University in New York and is editor of the Journal of Palestine Studies.