---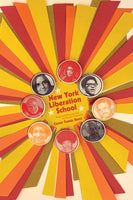 by Conor 'Coco' Tomás Reed
Common Notions
8/22/2023, paperback
SKU: 9781942173687
In the 1960s and '70s--when Toni Cade Bambara, Samuel Delany, David Henderson, June Jordan, Audre Lorde, Guillermo Morales, Adrienne Rich, and Assata Shakur all studied and taught at CUNY--New York City's classrooms and streets radiated as epicenters of Black, Puerto Rican, queer, and women's liberation.
Conor Tomás Reed is part of the next generation of an insurgent CUNY movement nourished by these legacies. Highlighting the decolonial feminist metamorphosis that transformed our educational landscape, New York Liberation School explores how study and movement coalesced across classrooms and neighborhoods. Reed's immersive and wide-ranging narrative brings us into the archives and up close to the stories of its participants in order to reactivate these vibrant struggles. The result is a radiant reclamation of collective history that charts a vision for liberating education and society today.
Reviews:
"City University of New York has a very long history of making revolutionaries. It was a magnet for students and some faculty who recognized the indivisibility of the campus and the street, study and struggle. New York Liberation School turns to CUNY's insurgent history to offer lessons for how we might remake higher education and the world." -- Robin D. G. Kelley, author of Freedom Dreams: The Black Radical Imagination
"This exciting telling of the City University of New York's radical history inspires us to imagine its future. Despite endless givebacks by administration and pushbacks from the state, CUNY professors and students contribute to and are influenced by the larger popular movements at home and around the world. By centering such professors as Audre Lorde, June Jordan, Adrienne Rich, and Toni Cade Bambara; students like Samuel Delaney and Assata Shakur; and grassroots activists in movements from Puerto Rican Independence to Palestine Liberation; Conor Tomás Reed makes record of what a university for poor and working-class people can give to the world. New York Liberation School is a necessary study that enriches our understanding and imagining." -- Sarah Schulman, former CUNY student and faculty, and author of Let the Record Show: A Political History of ACT UP New York
"New York Liberation School recovers the political organizing led by coalitions of students and educators to decolonize CUNY, the heart of NYC public education. Moving seamlessly between campus and streets, and foregrounding CUNY leaders like June Jordan and Audre Lorde, this book offers a rich archive of radical experimentation, creativity, and institution-building to a new generation fighting for justice." -- Robyn C. Spencer, professor of history at Lehman College, CUNY, and author of The Revolution Has Come: Black Power, Gender, and the Black Panther Party
"Conor Tomás Reed has gifted us with words that narrate the meaning of struggle of and for the university. Ranging from early twentieth movements around the university and militarism, to student and faculty struggles for Black and Puerto Rican Studies, to the most recent assaults against the neoliberal turn and Occupy, the story of the many reimaginations of City College, New York are not only a reminder of what the people's university might be, this book arranges itself as a demand for what it must be. This is a book for students and organizers, for committed scholars, and for our surrounding communities. Reed shows us that these are the people who must determine the future of these spaces. This book listens to the past for instruction, for these forebears have much to offer. We must thank Reed for allowing their voices space to be heard again. Now our choices for the future, the future of the university, will be conscious ones." -- Joshua Myers, author of Of Black Study
About the Author:

Conor 'Coco' Tomás Reed is a Puerto Rican/Irish gender-fluid scholar-organizer of radical cultural movements at the City University of New York. Conor is codeveloping the quadrilingual anthology Black Feminist Studies in the Americas and the Caribbean, is the current comanaging editor of LÁPIZ Journal, and is a contributing editor of Lost & Found: The CUNY Poetics Document Initiative. Conor is a cofounding participant in Free CUNY, Rank and File Action, and Reclaim the Commons; and is a member of CUNY for Abortion Rights.