---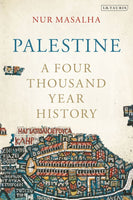 by Nur Masalha
I.B. Tauris and Company
10/5/2023, paperback
SKU: 9780755649426
This rich and magisterial work traces Palestine's millennia-old heritage, uncovering cultures and societies of astounding depth and complexity that stretch back to the very beginnings of recorded history.
Starting with the earliest references in Egyptian and Assyrian texts, Nur Masalha explores how Palestine and its Palestinian identity have evolved over thousands of years, from the Bronze Age to the present day. Drawing on a rich body of sources and the latest archaeological evidence, Masalha shows how Palestine's multicultural past has been distorted and mythologised by Biblical lore and the Israel-Palestinian conflict.
In the process, Masalha reveals that the concept of Palestine, contrary to accepted belief, is not a modern invention or one constructed in opposition to Israel, but rooted firmly in ancient past. Palestine represents the authoritative account of the country's history.
Reviews:
"This erudite, comprehensive study of Palestine explodes many myths. Essential reading for a proper understanding of the efforts to deny the deep historical rootedness of this name, and of its indigenous people." -- Rashid Khalidi, Columbia University
"The most comprehensive English language history of Palestine to date. This book is a painstakingly researched and well-documented deconstruction of the myths too many Zionists and their western apologists have convinced the world to be factual history." -- Counterpunch
"A work of broad and impressive scholarship. It fills a critical gap in our knowledge of Palestinian history and provides a long overdue corrective to traditional histories." -- Ghada Karmi, author of Return: A Palestinian Memoir
"This book by Nur Masalha is the fullest and richest text he has produced to date, bringing together his decades of work as a historian to produce a master narrative on Palestine." -- Haim Bresheeth, SOAS, University of London
About the Author:
Nur Masalha is a Palestinian writer, historian and academic. He is currently a member of the Centre for Palestine Studies, SOAS, University of London. He is editor of the Journal of Holy Land and Palestine Studies. His books include: Expulsion of the Palestinians; A Land Without a People; The Politics of Denial; The Bible and Zionism; The Palestine Nakba; and An Oral History of the Palestinian Nakba (with Nahla Abdo).